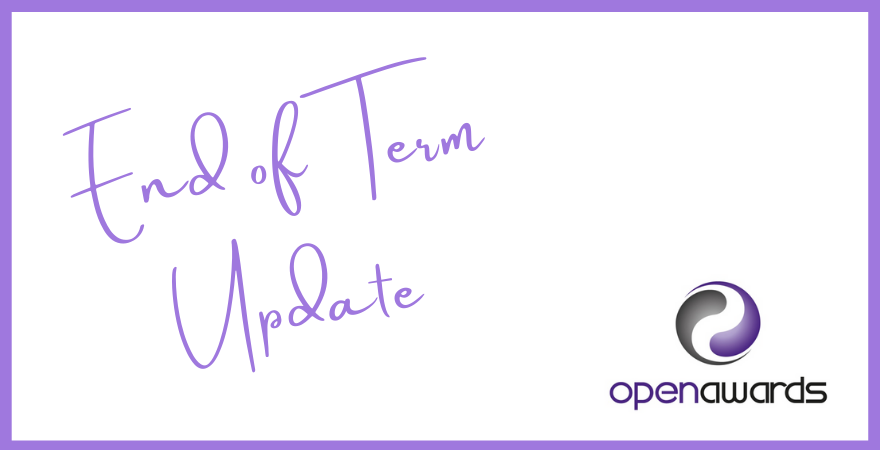 Dear Colleagues,
As we move to the festive season, all of you will be planning for the new Covid variant, Omicron and so, as well as sending greetings we thought it worthwhile just sharing a few timely reminders to assist you.
General
Open Awards will be closed from 5pm on 23rd December 2021 and will reopen at 9am on 4th January 2022. During this time, there will be no access to technical support or customer service. Please continue to email customerservices@openawards.org.uk and the team will get back to you as soon as possible in the New Year.
With regards to the latest Covid-19 guidance, please do keep an eye on our website as we keep that updated regularly with useful information and videos. We're also refreshing our Covid FAQs pages regularly.
The Department for Education has recently updated all its guidance for educational settings and both Ofqual and QAA publish guidance at regular intervals.
If any of your key contacts have changed, please ensure that you let us know in the usual way – this means if we need to contact you at short notice we can reach you quickly.
Access to Higher Education Providers
QAA has implemented an Extraordinary Regulatory Framework for Access to HE this year. Arrangements are summarised below and, in the video here.
Where all assessments for the qualification have taken place as normal or in an adapted form, they will determine the learner's level of attainment. To ensure grades are fair, equitable and robust, effective quality assurance arrangements will be applied, taking account of adaptations to the delivery, assessment or units delivered on the Diploma and extenuating circumstances that may have affected learner performance in assessment.
If you are considering changing any of the following, please let us know by completing the usual form or emailing your usual Open Awards contact.
Mode of delivery
Moving to online delivery
Adaptations to your programmes
Changes to assessments
You can find out more via the QAA website here or the Open Awards website here.
QAA is running a national standardisation event on 26th January 2022 focusing on the implementation of adaptations to support the delivery, assessment and award of the Access to HE Diploma during the pandemic. To book, please click here.
As part of the management of the Recognition Scheme, QAA is reviewing a number of elements of the Access to HE Diploma and is currently recruiting for individuals to join working groups for each of the three reviews we will be undertaking:
Diploma Specification Review
Licensing Agreement Review
Grade Scheme Review
Applications close on 14th January 2022. More information can be found here
Open Awards' arrangements have been updated to ensure we meet the requirements of the Extraordinary Regulatory Framework (ERF) in 2021-22. The moderation cycle has been amended to make sure we can continue to support Access to HE Diploma learners during the pandemic in a fair, flexible and equitable way. A number of guidance documents and template forms have been added to the Portal.
Provider training on the implementation of the Extraordinary Regulatory Framework will take place from 4pm to 5.30pm on Thursday 6th January 2022. Book here.
We are recruiting for Access to HE Subject Specialist Moderators to review assignment briefs and externally moderate learner work in the following modules:
Module
Criminology
Electrical and Electronic Engineering
Geography and Environmental Studies
History
Hospitality Management
Law
Physics
Policing
Politics
Social Work
Sport and Exercise
Theology and Religious Studies
Travel and Tourism
For more information please see our website.
Vocational Qualifications (Ofqual) Providers
The Ofqual Delivery reports for VTQs and GQs will be available on their Portal from 16th December 2021
The latest Ofqual guidance was published this month and is summarised below.  
The government's intention is that exams and other formal assessments, including for VTQs and other general qualifications, will go ahead in the academic year 2021 to 2022.
Ofqual has confirmed that the policy position is that exams and assessments will go ahead in 2021-2022. We are aware that there may be some practical skills that may be difficult to deliver and/ or assess remotely. Adaptations to the delivery, assessment or discussions regarding alternative units may be necessary to ensure they can go ahead as planned.
You can apply for an adaptation to any delivery and/ or assessment arrangements by submitting an Adaptation Request Form via the Portal. If you have any concerns about your delivery and assessment arrangements for 2021-22, please contact us on customerservices@openawards.org.uk. 
Please complete an Adaptation Request Form or contact your Quality and Standards Advisor to discuss other mitigations. The guidelines apply to all Ofqual-regulated vocational and technical qualifications (VTQs), including Functional Skills. Some Open Awards qualifications have specific adaptations approved. More information can be found on the Portal and on the Open Awards website here.
Functional Skills Providers
Have you advised us if you are planning on undertaking any examinations over the Christmas period?
As Open Awards will be closed between 24th December and 3rd January (inclusive), there will be no result release on Fridays 24th/31st. Any results due on these dates will be released on Friday 7th January.
End-point Assessments
Have you advised us if you are expecting any apprentices to sit knowledge tests or complete other End-Point assessments over the Christmas period?
As Open Awards will be closed between 24th December and 3rd January (inclusive), any results for assessments taken on 23rd December will be released by Monday 17th
A number of Covid flexibilities have been extended to

28

th February 2022. More information can be found here.
We hope that you all get a break – a chance to recharge and refresh – and we look forward to working with you in 2022.