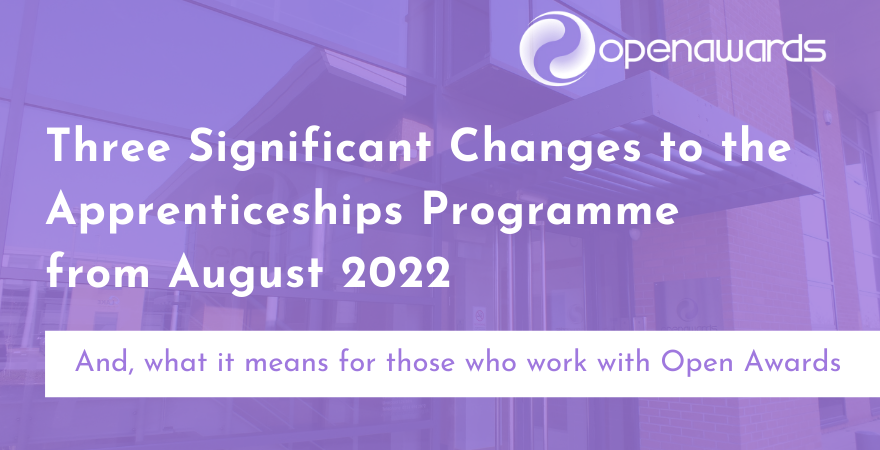 From 1st August 2022, several significant changes will be made to the apprenticeships programme in an attempt to 'make it simpler to use for employers, training providers and apprentices'...
Increased focus on provider assessment of prior learning and experience
This will enable apprentices to 'cut out' training they do not need so that they can complete the on-programme training/learning more quickly.
Introduction of a baseline for off-the-job training
This approach will move away from the existing 20% off-the-job funding rule, which training providers, employers, and apprentices have reported to find difficult to calculate for apprentices on the same Standard but working a different number of hours. Instead, the funding rules from August 2022 will specify the minimum of hours that a full-time apprentice must spend in training.
Changes to English and maths requirements
Apprentices who start a Level 2 apprenticeship without a Level 1 English and Maths qualification will no longer need to automatically attempt Level 2 English and Maths assessments to enter gateway. The aim is to enable Level 2 apprentices to focus on achieving their Level 1 English and Maths qualifications, with only those who are ready to take Level 2 assessments attempting them.
Full details of the changes can be found in the draft Apprenticeship funding rules available on the Gov.uk website.
The Department for Education welcomes feedback on these draft documents. You can email any suggestions to fundingrules.comments@education.gov.uk by 24th June 2022.
What does this mean if you work with Open Awards?
If you are an employer or training provider using Open Awards as an End-point Assessment Organisation, we will be amending our gateway process to take account of the changes to the off-the-job training and English/Maths requirements once the final funding rule guidance documents are published (this is expected in July 2022).
We will notify all providers and employers once the new documents are available for use.
If you have any concerns or queries in the meantime, please contact us on assessment@openawards.org.uk to speak to a member of the End-point Assessment team.
You can find out more about our End-point Assessment services on our website here.
If you are an education or training provider using Open Awards as an awarding organisation for your Functional Skills qualifications, we will continue to offer the full range of Functional Skills qualifications from Entry Level 1 – Level 2 in both English and Mathematics.
This means you can continue to use Open Awards to support your apprentices at both Level 1 or Level 2 to meet their learning needs. You can also use Open Awards Entry Level 3 Functional Skills qualifications for learners with an Education, Health and Care Plan.
Where appropriate to your apprentices, assessments at both Levels 1 and 2 can be delivered remotely, using your own invigilators or Open Awards' team of trained remote invigilators.
If you need any support with offering Functional Skills, please contact the team on enquiries@openawards.org.uk.
Alternatively, You can find out more about our Functional Skills offer on our website here.