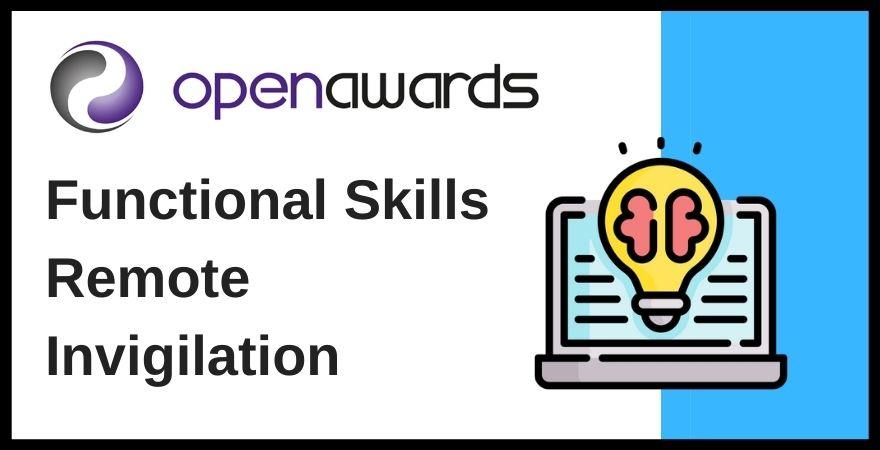 Open Awards is proud to offer Remote Invigilation for any of our registered centres delivering Functional Skills.
Remote Invigilation allows our centres to supervise formal exams online, so instead of candidates having to come to a test centre, they can take their exam on a computer in any location and they will be remotely invigilated. 
Our Remote invigilation is available for all online Functional Skills qualifications, including Remote Assessment of Speaking, Listening and Communication SLC (practical).
Remote Invigilation supports:
Functional Skills Maths and English at Levels 1 and 2
Learners who are unable to access the Providers facilities 
Those working towards Apprenticeships who are unable to continue with their Standards whilst away from the workplace/provider
Those who may have completed online skills development – but who are unable to access an examination venue
The increasing demand for Distance Learning
Blended Learning models
We are committed to ensuring all centres administer any required controlled assessments consistently and securely, supporting the management of standards and the integrity of the assessment process.
In order to offer Remote Invilgilation, you must seek approval from Open Awards and complete our new Remote Invigilation online training. You will need to provide your policy and procedures to demonstrate your ability to maintain the controlled assessment conditions required for Functional Skills assessments. Please contact us on quality@openawards.org.uk to discuss your assessment requirements.
For more information on this offer, please get in touch here.