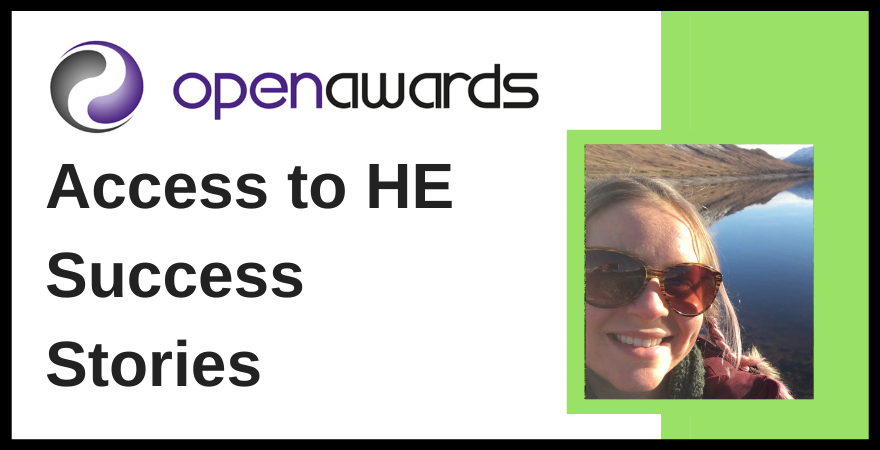 Here at Open Awards we love nothing more than an Access to HE Success Story and here we have a doozy! Sarah from Teach Ltd is on her way to studying Veterinary Science at university all because Access to HE!
Here's what Sarah had to say about her Access journey and experience;
About herself;
I want to be a veterinarian, but my life has not followed a conventional application route. I covered biology, maths, and physics during my undergrad (over five years ago now!), but I was missing university level chemistry. Truthfully, I also fancied a refresher in science and maths. The Biochemistry course was so perfect because it offers either a biology, chemistry, and maths option, or a biology, chemistry, physics option; having this choice mattered to me, as I wanted my studies to feel focused and intentional. I'm really pleased to say I've been offered two places, one at Royal Vet College, London and the other at Bristol University.
About the Access to HE Diploma;
No one could have predicted COVID, but my goodness, it is lovely to be on a course that was originally intended to be virtual and distance-learning based! There was no stress, confusion, or difficulty getting started. My course organiser and tutors were all accustomed to online delivery and support - no transition period to all-online etc.. I also sincerely appreciate how much support is available: and not just academic! Zoë, our course lead, and Mel, my personal tutor, are so timely and available to help with anything that will help you as an individual be successful (time management etc.).
Why she chose an Access to HE Diploma;
The Access course was actually suggested to me by Bristol Vet admissions. I needed to top-up my chemistry qualifications. I was considering sitting the A-level exam as an individual as I couldn't find a single course that fit my schedule, application timeline, or COVID restrictions (i.e. all online). It was getting pretty stressful, but I felt immensely relieved when I saw that the Access course offered everything I was looking for!
Would she recommend Access to HE to others?
Absolutely. I've had the practical experience to apply for vet school for years, but the missing chemistry component disqualified my application right away. In hindsight, it was pretty demoralizing. I wasn't sure during my undergraduate year I wanted to be a vet, and I've felt a bit undercut by that ever since. The Access course has allowed me to achieve the needed qualification, refresh my science and maths knowledge, and maintain my work/social life (as much as possible during COVID!). Truly, I am so pleased with my present and optimistic about my future because of the Access course.
For more information on the amazing and life-changing Access to HE Diplomas, then please click here