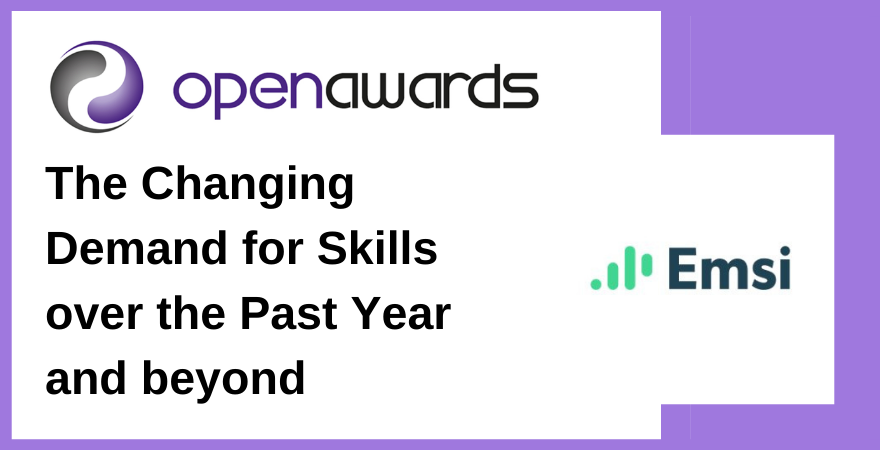 On Wednesday 28th April, I attended the Emsi Webinar entitled 'The Changing Demand for Skills over the Past Year and beyond'.
As a developer of Access to HE qualifications and as someone who feeds into the development of Ofqual accredited qualifications, I wanted to understand what skills were emerging as a must have and how the labour market been affected by the pandemic. 
Some of the key takeaways from the session to note were:
Redundancy rates are still high but are falling fast.
The unemployment rate peaked in January 2021 at 5% and the majority of those affected were young people i.e. 18-24 year olds.
Job postings were at their highest in February 2021 and this is gathering pace.
Restaurant and Commercial skills were at their lowest during the pandemic. This sector is gradually recovering but at a very slow pace.
Most in demand jobs postings in Feb 21 were for Nurses, Sales and Business Development Managers, Software Professionals and Care Workers and Home Carers.
The majority of jobs are being created in the following sector areas: Construction, Finance and Insurance, Manufacturing and Public admin and defence.
Mental Health, Risk Analysis and Warehousing job postings have increased.
The UK Labour market appears to be bouncing back strongly
Shift in skills demand is hinting to the long term:
IT and automations skills in demand.
Mental Health skills needed –adapting to new ways of learning, living and working.
The increase in demand for Warehousing skills reflects our new consumer behaviour.
I found the session to be really interesting and the statistics provided will certainly help us at Open awards when developing our future qualifications. The information will also support our centres when in our collaborative curriculum planning sessions.
If you are interested in talking to us to discuss how this information can help shape your centres provision, please do get in touch with one of our Business Development Managers below: