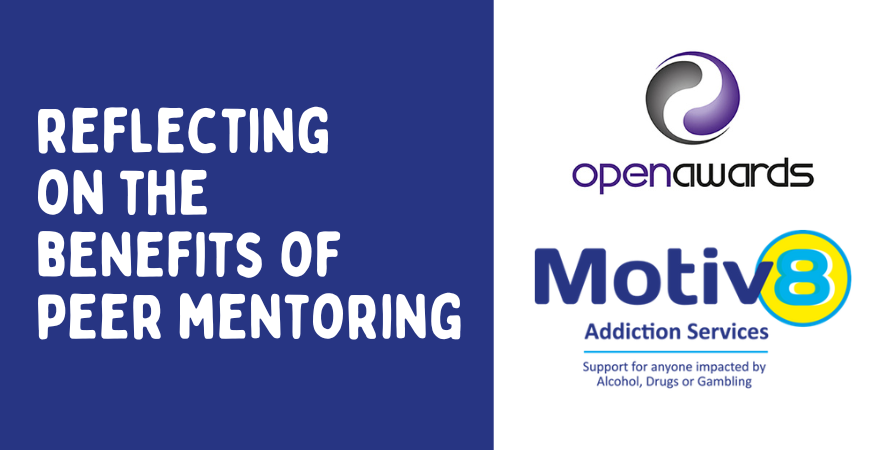 In the autumn of 2021 Motiv8 launched a L2 peer mentoring award programme, a qualification offered by Open Awards.
The programme took about 12 months to complete with a weekly training session, interactive activities, roleplay and homework integrated into the programme. The open awards training programmes allowed us to tailor our peer mentoring programme around the learning outcomes expected from the course.
We advertised and recruited service users who had a demonstrable recovery from substances who were keen to become involved in a peer mentoring service and were lucky to recruit 10 individuals.
The peer mentoring programme guidance on the portal and the templates to follow, allowed us to shape a comprehensive training programme enabling us to add academic learning and an accredited award to the invaluable lived experience these mentors already possess.
In total 10 peer mentors enrolled on the course, and 8 completed it in its entirety.
There are a multitude of benefits from peer mentoring. Not just for the mentees but the mentors.
Service users benefit from seeing and learning from a peer who has already made great strides in recovery
Its someone who understands the pitfalls and challenges and who has lived experience and absolute empathy
Helps improve 'recovery capital', the toolbox to aid living a life free from addiction.
It also gives peer mentors the opportunity to give something back and encourages them in the next stage of their recovery, increasing confidence and feelings of self-worth and a route back to employment in a field they have a passion to work in.
The benefits of peer mentoring are also backed up in research with greater recovery outcomes achievable when added to a service users care plan.
It's been so inspiring and an honour for the team at Motiv8 to have been part of this fantastic peer mentoring programme and to see the mentors achieve this fantastic level 2 Award through Open Awards.
We have now commenced our mentoring service, adding a new level of support for service users alongside of our one-to-one counselling and group work programmes.
Special thanks go to Open Awards who were enormously helpful throughout the programme delivery and answered our queries at all times.