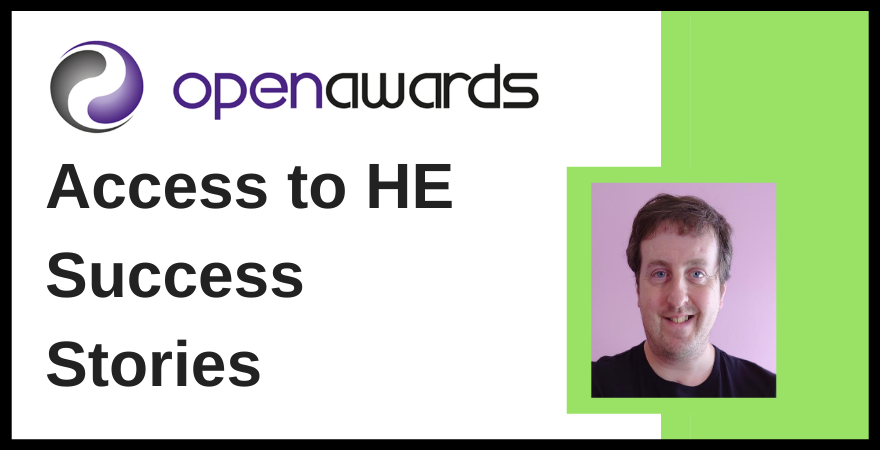 Here at Open Awards, we love to hear and read about the amazing and inspirational stories that our centre's learners have to tell. Below we have Andrew's story. Andrew is a recent graduate of Southport College, where he completed an Access to HE Diploma in Health and Caring Professions. We got in touch with Andrew via email to ask him a few questions about his time at Southport College, his future plans and what inspired him to sign up for an Access to HE Diploma in the first place.
Read Andrew's truly life-changing and uplifting interview below.
Now you have completed the Access course at Southport, what are your next steps?
I am planning to start Edge Hill University in September, which the Access to HE Diploma has given me the grounding & qualifications needed to attend university.
What is your ultimate goal? What is your dream career ie Why did you do the Access course? What will the course help you achieve?
My goal is a long story but here goes. Initially, I have had one job since I left school in 1991 and have stayed there through college and obtained my qualification for motor vehicle mechanics (at Southport College). I continue doing different jobs at Mercedes-Benz of Southport, and still, work there now, after nearly 30 years (if only part-time) and plan to stay working there while I attend university.
Now, back in 2007, I was on my way home on my motorbike, which I had just washed because planning to sell it, and was nearly home approx.. 1000 yards away. Sadly somebody pulled out in front of me, which ended with me almost dying at the side of the road.
I died and had to be resuscitated, with the kiss of life. An ambulance took me to the hospital where I had broken my neck, fractured the C2 bone, also cracking my ribs which punctured my lungs, even suffering a traumatic brain injury. Unfortunately, left me in a coma for 3months, and initially when I came around (also need to point out that I don't remember any of that time). I couldn't speak and used to blink my eyes to yes, or no answers to questions. I left the hospital after a total of 9 months. I do own my own house, but I couldn't do stairs when I left the hospital. Fortunately, my mother lives in a ground floor flat, so I went there after the hospital. To carry on my work at getting better and improving where I could.
Through this, I have had dealings with lots of different health professionals from Doctors, Nurses and care workers in day centres. This is what changed my mind into what I want to do, because I have seen how health professionals, not all I need to say, have patronised me and treated me like I don't know anything. I am in a wheelchair, but my brain is still working as usual, and I do understand what people say and can react correctly. Also, my time attending the day centres, I did make some friends, and chatting with them they told me that unfortunately they get treated like that, sometimes too. This made me think that people just want to be spoken to correctly. So, I want to work with people with disabilities so that they can talk to someone and have a friend.
My and I have been on holiday to a disability home and it was great and the people I met just liked talking. So that is where I hope I could end up working even if only part-time.
Everyone at Open Awards would like to congratulate Andrew on his amazing achievement and thank him for taking the time to share his story with us. We wish him all the best in his future studies and wishes. 
If you would like to know more about studying or delivering our Access to HE Diplomas, then please click here.