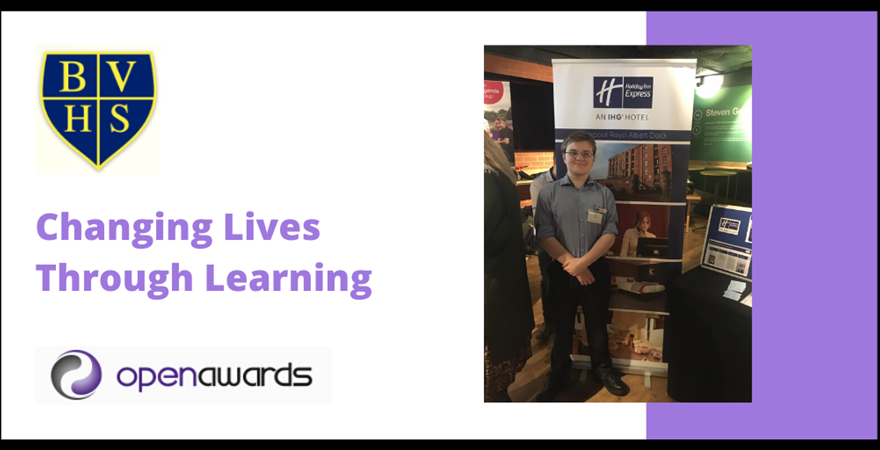 Last week I attended the 'Inspiring the next wave of supported internships in Liverpool City Region' event at Anfield Stadium. Listening to speakers from employers, including the Holiday Inn Express and Mersey Care NHS Foundation Trust, SEN Schools and learners made me appreciate how valuable supported internship programmes are to young people with special educational needs. 
At the event, I had the pleasure of hearing Mark Langan's story, a learner from Bank View High School who completed a supported internship programme with the Holiday Inn Express. Mark's personality lit up the stage. He had great confidence and presence and had the whole audience laughing at his jokes within seconds. During his presentation, Mark spoke about the time he met Prince Charles, his part in a BBC documentary and a comical moment when he dropped the microphone whilst speaking to a large audience at the Exhibition Centre Liverpool!
Mark wasn't always the confident person we saw on stage. A few years ago he found it extremely difficult to communicate and engage with others, but it was his supported internship that helped him to develop confidence, motivation and incredible communication skills. Mark explained that numerous people told him he would never get a job over the years, but now, at the age of 19, he had proven them all wrong by being in full time paid employment at the Holiday Inn Express. Mark said he is saving his earnings to buy his own house or flat one day and getting a job at the Holiday Inn Express has changed his life.
After his presentation, I was chatting to Mark and he asked me where I work. When I told him Open Awards he was delighted to tell me he had received a lot of certificates from us! It was incredible to hear that Mark knew who we are, I thought if he asked me which Awarding Organisation I had achieved my qualifications through in school I would not have been able to answer!
During his time at Bank View High School, Mark achieved a very impressive 8 Open Awards qualifications, including Functional Skills; Employability and Professional Development; Travelling in the Community; and Science.
I am so pleased I attended this event - success stories like Mark's is the reason we do what we do!
For more information on all of the wonderful and life-changing qualifications we have on offer please click here.