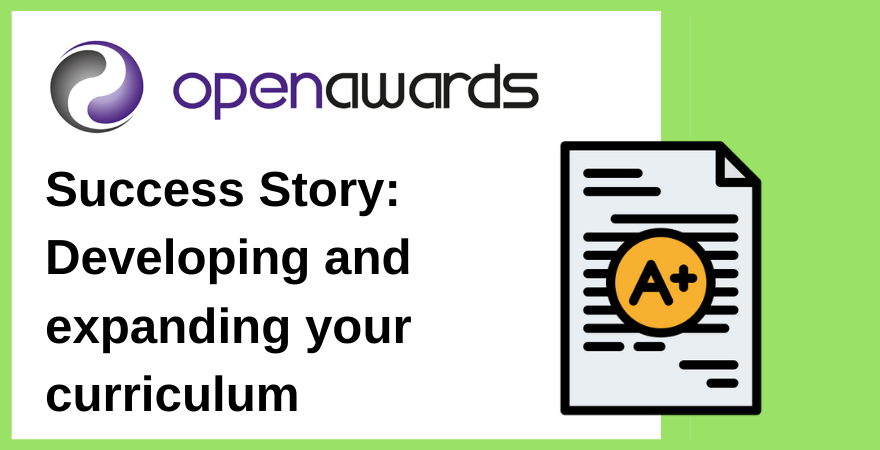 Hello. My name is Rachel Newman and I am a Business Development Manager (Access to HE) at Open Awards. My work as an account manager changes from day to day and I wanted to share with you the impact of a great curriculum session and how it can develop and expand your curriculum offering.
Once you join the Open Awards family, we look after you and support you on your journey with us. As part of the service we provide, you will be allocated an 'Account Manager' who will hold regular talks with you to offer support in confirming and developing your curriculum. We tailor our work towards your needs and look at how we can fill those gaps for you.
A great example of this interaction between Centre and Account Manager took place this year when I met with one of my centres, Hopwood Hall College, to discuss what direction they wanted to go in with their Open Awards offering. The meeting took place pre – Covid 19 and Simon from the centre advised on how the college was trying to link their Level 3 Access to HE offering with their existing level 4 qualifications.
 Together we:
Looked for the gaps in the Access to HE offering and considered resources
Considered learner progression routes to HE and employment within the local area
Arranged for the college to offer two new Access to HE courses
Worked together to approve, promote and market these new courses (during a pandemic!)
I am so proud of the outcome. From working very closely with the college, we have now registered twenty-two learners on the new courses which are so exciting! The learner numbers at the college this year have increased by 53% which Is fantastic and a testament to the hard work of the staff. Not only is it great for the college to receive these additional learners (and their funding) but by working collaboratively with the centre, we know we have changed twenty-two lives for the better.
Simon Farrar from Hopwood Hall College comments
'The supportive meetings and correspondence with both Open Awards and Rachel gave us the confidence we needed to set up our new provision and to carry on validating it despite the ongoing challenges of a pandemic! The new Access provision now gives more adults in the borough the opportunity to gain the skills and knowledge they need to complete their Access programs and progress with us to start their university journey. This will also hopefully lead to an expanded intake on these HE programs next year. Rachel had the wealth of experience, knowledge and contacts that we needed to get the new provision up and running and I would encourage other colleges to speak to their account manager about what other potential opportunities there might be out there.'
I will continue to work with Simon and the college and will keep you up to date with any further progress.
If you are currently reviewing or want to refresh your offer, please get in touch with either myself or one of our account managers below. You never know, the discussion could increase your learner numbers, refresh and modernise your offering and keep your centre at the top of its game.
Rachel Newman - 07921 621 768
Peter Steel - 07904 653 887
Sara Jordan - 07940 514 625