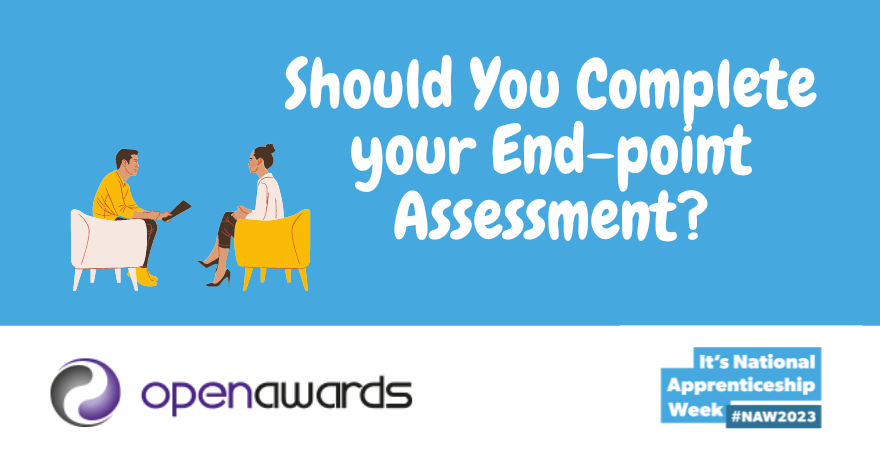 Completing your apprenticeship is one of the most valuable investments you can make in your future. Not only will you gain valuable skills and experience in your chosen field, but you'll also be setting yourself up for long-term success.
One of the most important parts of your apprenticeship is the End-point Assessment (EPA). This assessment is designed to test your knowledge, skills, and abilities, and it is a crucial step in determining if you are ready to become a fully qualified professional within your chosen occupation.
Leaving your apprenticeship before completing the EPA would potentially undermine the learning you have completed to date and leave you with no evidence of your achievement. It is the same as leaving an academic course e.g., A-Levels, without sitting the exam at the end.
Employers look for apprentices who have completed their training and passed the EPA as it demonstrates that you have the necessary skills and knowledge to succeed in your chosen field.
The value of an apprenticeship is that it not only provides you with on-the-job training and experience, but also with an industry-recognised qualification. This qualification will increase your employability and make you stand out in the job market, giving you a competitive edge over other job seekers.
Completing your apprenticeship can open doors to further learning or higher education, if not now, perhaps at some point in the future. You may want to pursue a higher-level apprenticeship to support further career progression, and being able to demonstrate your achievement of the full apprenticeship qualification will support any applications to education or training providers.
Completing your apprenticeship and passing the EPA is an essential first step in building a successful career. Whilst it may be tempting to leave early or focus purely on the paid employment element of the apprenticeship, it is important to value the time, effort and resources you've invested so far. Stay committed, finish your apprenticeship, and reap the rewards of your hard work.