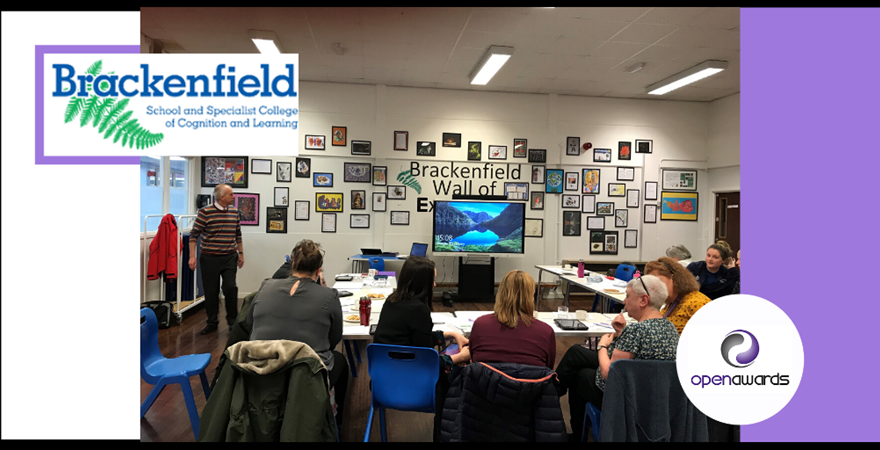 On Monday 10th February 2020, Open Awards held its first SEN Networking Event outside the North West – in Nottingham.
Even on a very cold and wintery day, 15 specialist practitioners from the SEN sector, came together at Brackenfield Special School, to reflect and discuss a range of curriculum-related issues.
Deputy Headteacher at Brackenfield School, Sophie Evitts, gave a comprehensive overview of their curriculum offer. This included information relating to the qualifications used, timetabling and how their offer corresponds to individual and local need and the Preparing for Adult Agenda, through:
Employment
Friends, Relationships and Community
Independent Living
Good Health
Our very own, Peter Steel, provided an overview of current Open Awards qualifications available, primarily through SSA 14.
This was followed by an overview of the qualifications that are planned to be available for this sector from September 2020 - especially for those working at Entry Level 1 to Level 1.
Our Access to HE specialist Rachel Newman provided an insight into SEN Centres that are introducing Access to Higher Education for higher Level Learners.
General discussions and feedback included:
Providers experiencing issues with some of their current curriculum offer not being recognised by future providers (e.g. FE Colleges).
SEN learners continue to be "defaulted" back to E2 / E3 when they have a perceived higher-Level qualification/programme.
The extensive utilisation of EHCP – to plan, track and monitor Learner progress.
The utilisation of the Learning Continuum for Entry Level 1 units/qualifications.
The need for meaningful outcomes for Learners.
Centres continue to look for more vocational/practical content
The growing focus on individualised learning and a curriculum offer that meets learners needs and aspirations – whilst supporting independence, employment and social mobility.
Peter said;
"hopefully this will be the first of many meetings, to update and support those working in the SEN sector. Delegates will have the opportunity to hear from each other, share best practice and discuss how to best support their learners through an inspired and responsive curriculum. It is envisaged that attendance will not be limited to the Curriculum Leads, but also include those directly involved with programme delivery and learner support" 
The next Nottingham SEN Networking Event will take place on 8th June 2020. To book please click here.
If you (or your colleagues) would be interested in attending (or presenting), please contact Peter Steel at Open Awards on 07904 653 887