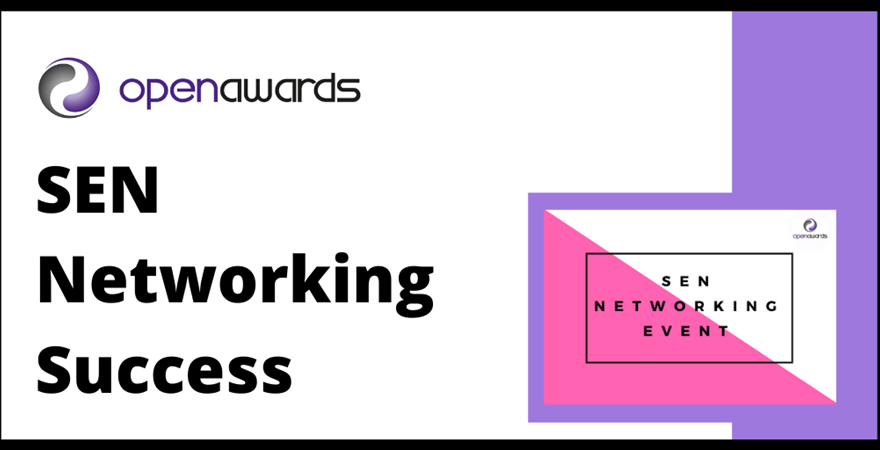 On Thursday 5th March, we held our SEND networking Event at Open Awards HQ. This was our second successful SEN event of the year. 
It was a popular event with attendees from local SEN schools, training providers and independent institutions.  To kick start the event, Rachel Newman from our Business Development team welcomed everyone and spoke about how she has been working closely with one provider in attendance to see how they could deliver our Access to HE qualification from September 2020.
Rachel then handed over to our guest speaker Kirsteen McGarva from Manor Academy who spoke about the Open Awards qualifications they offer, their tailor-made curriculum and how it works for them. We would like to thank Kirsteen for her kind words regarding how she enjoyed working as part of the Open Awards family!
Our Product Development Manager Julie Goodwin was next up and shared how our brand new tailor-made SEND package could help support learners on their individual learning journey. We will be sharing more details on this shortly.
It was then time to network and it was so exciting and inspiring to hear some great conversations about collaboration and sharing best practice. Overall, it was a great day and we hope to run this event here at Open Awards HQ again in the future so keep an eye out on our events section for more details. In the meantime, we return to the amazing Branckenfield Special School on Monday 8th June to host and deliver another afternoon to reflect and discuss a range of curriculum-related issues with colleagues from the SEN sector. Click here to book