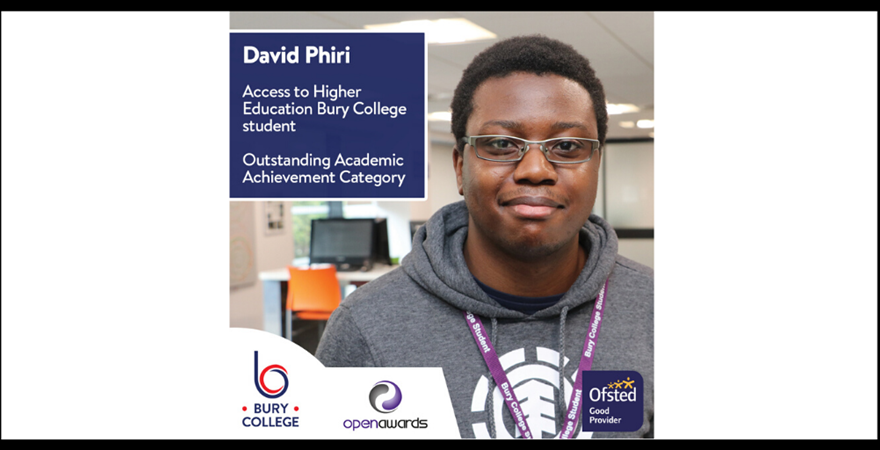 Open Awards and Bury College have been working together to change lives through learning for 18 years.
Last week Open Awards received the wonderful news that one of Bury College's Access to HE learners was announced as the winner of the esteemed Keith Fletcher Memorial Prize in Outstanding Academic Achievement category.
The Keith Fletcher Memorial Prize is a national prize that celebrates the achievements of Access to Higher Education learners in two categories 'Outstanding Academic Achievement' and 'Outstanding Commitment to Study'
One such Access to HE learner was David Phiri. David was announced as the winner of the prize for his amazing academic achievements at Bury College.
David was raised in South Africa, but due to troubles, his family sought safety in the North West of England. Once settling in Bury, David made the decision to continue his educational pursuit in humanities at Bury College.
Once at the college David excelled at his academic studies. David achieved one of the highest GCSE English grades in Bury College; he also walked away with outstanding results in his Access to HE diploma.  
David's tutor, Shengchi Hsu said of his achievement 
"I have been honoured to work with David on our Humanities diploma. This award validates not only his academic achievements but also his exceptional talent in writing. I look forward to seeing him develop into a writer, enriching the U.K's literary landscape with his powerful voice." 
David said of his achievement
"I am so happy and very proud to receive this award. Prior to starting my Bury College Access course, I had been out of education for some time. Access courses have been designed to support individuals on their journeys back into education so to receive an award to celebrate my journey is amazing."
David will be invited to a special presentation event, hosted by Rosie Duffield, MP, at The Palace of Westminster during the spring term, where he will receive a certificate and cheque to help them with their future study.
Everyone at Open Awards would like to congratulate David and Bury College on this amazing achievement and if you like more information on the Access to HE Diplomas or any other life-changing qualifications we have on offer please click here.