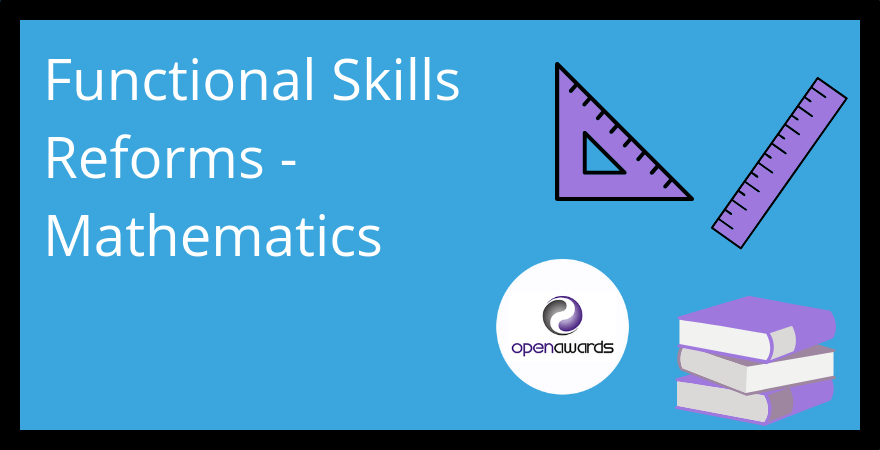 Reformed Functional Skills Qualifications in English and Mathematics will be available to teach on 1st September 2019. 
The Department for Education and Ofqual have consulted on, and confirmed their overall approach to regulating these new Functional Skills Qualifications. Although there are a number of changes from the current FS Qualifications, some aspects have remained the same. There are however, a number of challenges that centres do need to be made aware of before 1st September 2019.
Open Awards are in the process of developing the reformed Functional Skills Qualifications at Entry Level 1 – Level 2.
Let's look at Mathematics
What has not changed?
The Reformed Functional Skills Qualifications continue to:
Have the three core sections that relate to Number, Measure and Shape and Data Handling, which all need to be covered to achieve the overall award of mathematics.
Enable each level to build on the skills of the previous levels and encompass the skills of the previous levels.
Have assessments that will be accessible, flexible and varied to meet learner needs.
Ensure that Level 1 and Level 2 assessments will be externally set and externally marked.
Enable Entry Level 1-3 assessments to be externally set but internally marked by the centre.
What has changed?
Some of the changes to Functional Skills mathematics include:
An indication that learners can demonstrate their ability in mathematical skills and application through appropriate reasoning and decision making to solve realistic problems of increasing complexity.
Introducing learners to new areas of life and work so that they are exposed to concepts and problems which, while not of immediate concern, may be of value in later life.
Enabling learners to develop an appreciation of the role played by mathematics in the world of work and in life generally.
This means that learners will need to:
Perform calculations without the aid of a calculator.
Know of times tables.
Use mathematics both as a stand-alone skill and as part of problem solving contexts.
Our approach to this will be to develop assessments that have:
A single component consisting of one assessment, either online or paper-based, which has 60 marks in total and a 2 hour duration for Levels 1 and 2.
A single component consisting of one assessment (paper-based only) which has a 1 hour 20 minutes duration for Entry Levels 1-3.
A total of four tasks: one non-calculator task and three calculator tasks (each task with equal weighting).
A range a questions such as: short answer, graph/chart completion and limited multiple choice.
A Pass/fail result.
Challenges for Centres:
Delivery of the Reformed Functional Skills require centres to consider the:
Increased challenges for learners to demonstrate independent competence across the range of skills.
Greater expectation for learners to 'perform' to the required level.
Different format and structure of the specifications and subject content.
Specific qualification content must be fully covered to support successful end assessment.
Need for learners to be able to complete non-calculator operations, as well as calculator.
In order to assist centres and providers, Open Awards will be running workshops in the near future to look at the delivery of the Reformed Functional Skills. The first workshop is on Thursday 7th March 1.30-3.30pm at our head office in Speke. In the meantime, if you have any concerns, please contact the team on info@openawards.org.uk or 0151 494 2072.