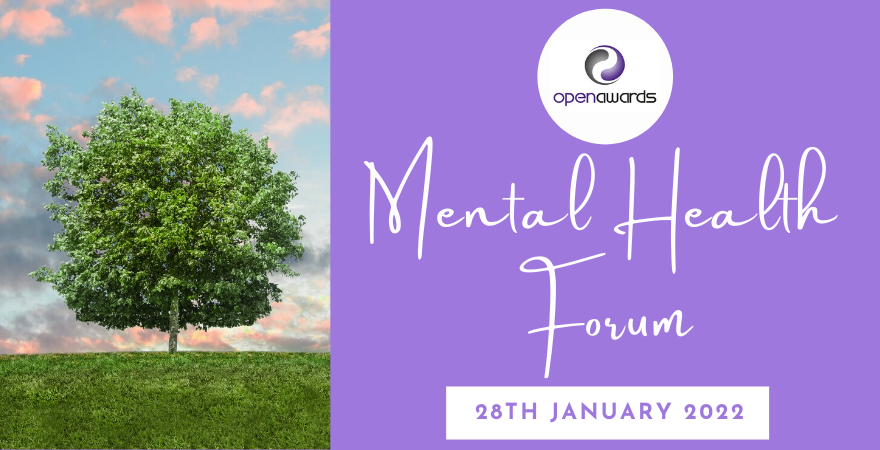 On 28th January 2022, we welcome you to attend The Open Awards Mental Health Forum, featuring our very special guest speaker, Richard Curtis from The Root of It.
The forum is free of charge, open to everyone and will discuss a number of common difficulties and factors affecting mental health along with Richard's own model for mental health support, including how this can be effective in everyday life. You will also be encouraged to offer your own suggestions on any coping mechanisms that you may use.
Looking ahead to the event, Open Awards' Access to HE and Marketing Manager, Rachel Newman said:
"In the November of 2021, I was lucky enough to organise the Access to HE Forum. At Open Awards, we hold three forums per academic year, each one is individually themed and includes guest speakers and topics raised by the providers themselves.
Due to the extraordinary nature of the past 18 months, our providers asked me for some assistance with managing the mental health of their learners and staff. They advised me of the negative impact that the pandemic has had on many of their learners and tutors in particular, and wanted to know how best to support them through these trying times.
Immediately, I turned to my colleague Richard Curtis at The Root of It. Richard is a master of mentoring and there isn't anything he doesn't know about mentoring, support and mental health. Richard agreed to be a guest speaker and although his session already had high expectations, he definitely exceeded them!
On the day, when Richard was presenting, you could see the delegates hanging on to his every word. He provided tools for supporting learners and colleagues whilst using techniques that made us think about things from different perspectives. The feedback on the session was so positive that we decided to run it again as part of our January New Year - New Start Campaign."
If you would like to register for The Open Awards Mental Health Forum, please click here. We look forward to seeing you there!