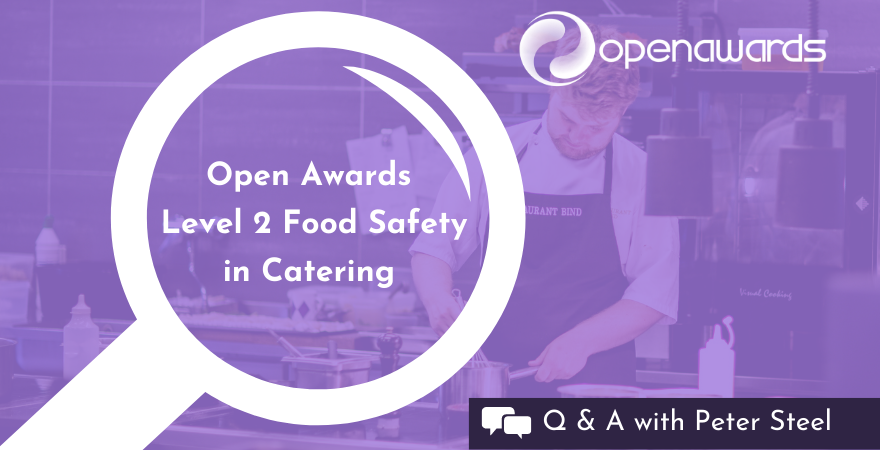 One of the many qualifications we offer at Open Awards is the Level 2 Food Safety in Catering (RQF). This is a nationally recognised qualification, created to ensure that people who work in an environment where food is produced, do so safely and remain compliant.
Today, we are joined by Open Awards' Business Development Manager Peter Steel who will be providing us with some very interesting insights regarding: what learners can study throughout this course, how it is delivered, assessment methods and potential career progression routes. 
Firstly, what can learners expect from this qualification?
By completing the Food Safety in Catering qualification, you will develop an understanding of the best practices and procedures for storing, preparing, cooking and serving food. This qualification is an essential tool for anyone working in an organisation where food is present.
How is the qualification delivered?
The Open Awards Level 2 Food Safety in Catering qualification is usually delivered in a classroom setting by an experienced and qualified Food Hygiene tutor. The course doesn't take long to complete and is usually done in around nine hours!
How is the qualification assessed?
At the end of the course, there is a thirty question, multiple choice examination, which can be completed either online or by paper-based option. Each question is worth one mark. In order to pass the course, learners must achieve a minimum mark of twenty from the thirty marks available.
What topics are included in the qualification?
The qualification will give learners the opportunity to gain knowledge in a number of areas including:
Food Safety Practices and Procedures
Risk Assessment
Safe Food Handling and Food Safety Hazards
Legal Responsibilities
Personal Hygiene and Practices
Workflows
Contamination / Cross Contamination
Food Spoilage
Pest Control
Stock Control
What could learners do next upon completion?
The Food Safety in Catering qualification is an essential part of working in any environment big or small which involves dealing with food, below are a few progression routes which the course could potentially open for learners:
Level 3 Supervising Food Safety

Level 2 HACCP

Level 2 Catering & Hospitality qualifications (including Apprenticeships)

Employment or Volunteering in a range of settings
What are the entry requirements?
You don't have to hold any previous qualifications to take this course which means there are no entry requirements! The Food Safety in Catering (RQF) is also available for people of any age including Pre-16 learners!
We hope that you've enjoyed this article and it has provided a little food for thought! 
If you would like to learn more about this or any other qualification available through Open Awards, please do not hesitate to get in touch with us!