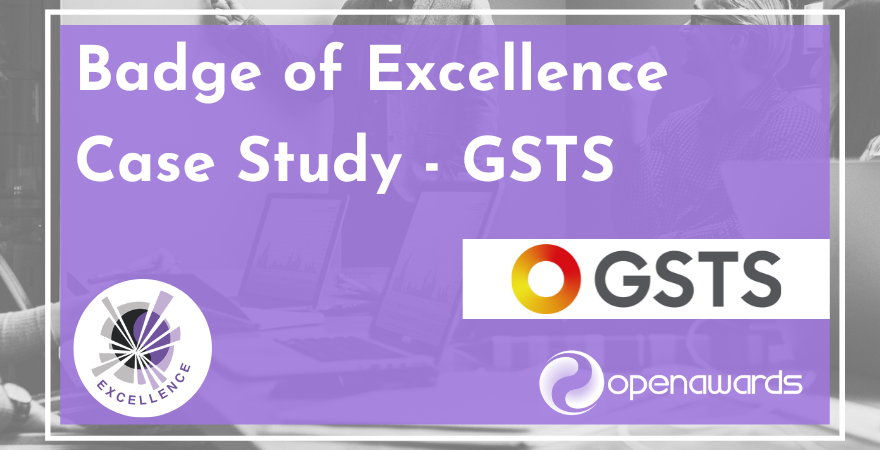 It's awarding season here at Open Awards and our theme for July is all about celebrating the success of our wonderful providers and their learners!
Throughout this post, we'll be focusing on our Badge of Excellence (BOE) programme and in particular, the success of our work with GSTS who have very kindly provided some feedback on their experiences with Open Awards. 
We would like to take this opportunity to say a huge thank you to Stuart Lindsay from GSTS for taking part in this case study. 
Why did you choose the Open Awards Badge of Excellence? 
GSTS chose Badge of Excellence because it enabled us to internally quality assure an internal course that we created and developed. The added external quality assurance of Open Awards BOE gave us our 'rubber stamp'.
What does it mean to you?
It means that GSTS employees can be assured that our internal training course has met Open Awards Badge of Excellence standards and also that we can add value to the skills which our employees currently have.
 Has it generated any additional business for you?
The BOE was an integral part of our tender approach with NHS security provision. It provided value and kudos to our overall tender for the NHS Provision.
Would you be interested in any further collaborations with Open Awards in the future? 
We are currently in collaboration with Open Awards about gaining an Ofqual accreditation for our internal courses. I would say to watch this space for new qualifications that GSTS are developing in collaboration with Open Awards.  
 How would you rate the support that you have received from Open Awards?
The support has been fantastic! Initially we went through the hard work of developing the course, which it was always going to be - but with Open Awards supplying constructive feedback for our needs, we achieved our goal of BOE accreditation.
Throughout the remainder of this post, we'll be taking a closer look at the Open Awards Badge of Excellence accreditation and the benefits for your organisation. 
What is the Open Awards Badge of Excellence? 
The Badge of Excellence is Open Awards' Quality Assurance Mark. It is a type of accreditation for public, private or third sector training and education programmes that achieve meaningful outcomes but would not be enhanced by the delivery of regulated qualifications or quality endorsed units.
How does the Badge of Excellence work? 
You can utilise Badge of Excellence to accredit any high-quality training or learning activity that meets the Standards of Excellence. Your programme is externally quality assured against Standards of Excellence. Once approved, your programme will be accredited for 2 years.
What can it be applied to?
The Badge of Excellence can be applied to a broad range of activities, including:
Face-to-face training
Group activities
Community projects
Distance learning
E-learning
Work placements
Continued professional development
What do learners receive upon completion?
Learners receive a certificate of attendance from a nationally recognised Awarding Organisation.
What are the benefits of working with Open Awards?
Simple process​es
National and Regulated Awarding Organisation​
Robust quality assurance​
Focus on continuous improvement​
Tailored support​
Flexible accreditation for learners
We hope you enjoyed this article and if you think that the Open Awards Badge of Excellence could be an ideal fit for your organisation, please do not hesitate to get in touch.