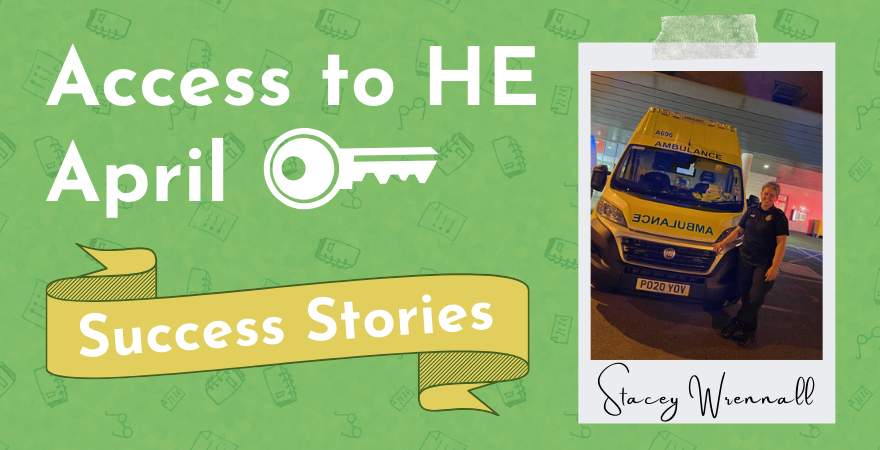 Happy Access to HE April everyone!
Throughout this month, we'll be celebrating all things Access to Higher Education and the wonderful ways in which these qualifications can change lives, offering learners a pathway to university study and ultimately, their dream career. 
We love this time of year here at Open Awards as we get to share our learners' amazing Access to HE journeys and achievements. Today, we'll be catching up with Stacey Wrennall who completed an Access to Nursing and Healthcare Professions course at Southport College before progressing to Liverpool John Moores University. She now works as a full-time Paramedic
Read about Stacey's success story below...
"Before starting the Access to Nursing and Health Professions course in 2015, I had been away from an education setting for 6 years. I had left school unsure of my career path and worked in several different jobs. Having researched the role of a Paramedic for some time, I signed up to the Access course to allow me to take a big step towards going to university to train for my dream job. 
My time on the Access course was brilliant. The tutors and other staff around the college were knowledgeable, extremely helpful and so supportive. They would go above and beyond to give the students all the opportunities and encouragement they needed to progress through the course and onto further education. The structure and content of the course was fantastic and every aspect that was included was truly designed to prepare us for the challenges and demands of university. Looking back after completing my university studies, aspects such as: the correct structuring and referencing of essays, the various different types of assignments and the structured deadline for submissions all prepared me incredibly well for further education. It was the perfect way to return to education and gave me the drive I needed to continue to pursue my career.
The wonderful mix of students from all different walks of life, at various different stages of their lives and careers made this course so enjoyable. It made the support from peers just as invaluable as that from the tutors. I made good friends who I continue to support and encourage as we now work in healthcare professions.
After completing the Access course, I studied for a Diploma in Paramedic Practice for two years at Liverpool John Moores University and I am now in full time employment, working as a Paramedic. I am certain that without the Access course, I wouldn't have been successful in gaining my university place. It has allowed me, along with hard work and dedication, to be privileged enough to work as a Paramedic today."
Congratulations on all your fantastic achievements Stacey, everyone here at Open Awards wishes you all the very best for the future. 
If you would like to learn more about our Level 3 Access to HE Diplomas, please click here.