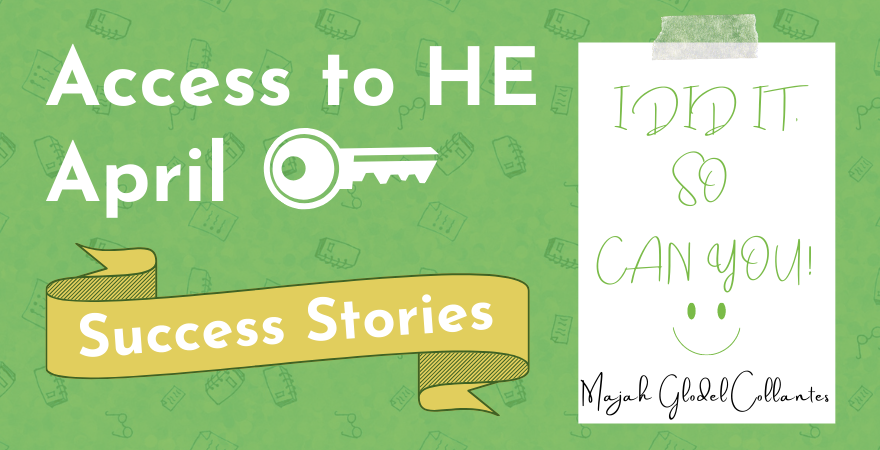 It's Access to HE April and we're celebrating all things Access to Higher Education here at Open Awards! 
These qualifications can truly change lives, offering learners a pathway to university study and ultimately, their dream career. 
We always relish this time of year and in particular, opportunities to share our learners' inspiring Access to HE journeys and achievements.
Today, we're catching up with Majah Glodel Collantes who completed an Access to Education course at Southport College before progressing to Edge Hill University to study a Bachelor of Arts in Primary Education with Mathematics.
Read about Majah's success story below...
"Before the Access programme, I was a full-time homemaker, a wife and mother to two young children. I put my flourishing career on hold to focus on my family. For the past 8 years I had been pondering on what to do once my children had grown up and what I would be in 5 or 10-years' time.
My husband encouraged me to return to study. At first, I was hesitant as I felt insecure about my age and returning to learning. I was also unsure if I had the qualifications to even access any educational programmes in the UK as I was an immigrant. I had a degree, which I earned abroad, yet I was unsure if it was comparable or acceptable here.
Moreover, I was also doubtful whether I could adapt (or not) to the British system of education as English is not my first language. Additionally, as I had been out of formal education for over 10 years, I was thinking about the drastic changes returning to education would bring. Would these changes affect my family? However, I was yearning to progress and succeed, both personally and professionally.
When I finally decided to return to education and apply at Southport College, I was not expecting my application to be considered. The admissions team were very welcoming and encouraging. They advised me to enrol on the Pre-Access programme (GCSE) to gain the relevant qualification to progress onto an Access course and then to university. They were very accommodating and inspiring.
The Pre-Access year fully prepared me for GCSE examinations. More significantly, the tutors were outstanding. They not only helped me pass my GCSE exams but also encouraged me to embrace my strengths, improve my confidence and improved my academic ability.
Before I started the Access programme, I was anxious about the commitment, as I knew it would be an extremely demanding year. I juggled family commitments, childcare, meeting the demands of assignments, achieving the relevant UCAS points and being accepted into university.
Moreover, I was aware of how competitive university applications are. The pressure was overwhelming even before I started. However, I was determined to succeed and I never allowed negative thoughts to overpower me. I considered it as preparation for a graduate job and constantly reminded myself why I was doing this.
The Access programme was challenging, not because it was hard but because of time constrictions (a full Level 3 programme in nine months). It was fast-paced yet achievable. You are guided and supported extremely well, taught how to achieve the best possible grades and achieve your academic potential.
Significantly, the Education tutors Lindsey Sutton (Education Studies and Pastoral Leader), Marc Evans (Psychology) and Dominique Fuentes (English Literature) went beyond in extending help beyond their call of duty. They have been instrumental to my success in the programme. Without their guidance and motivation, pursuing this programme would not have been possible.
Moreover, the extra support like the Child Care Funding was very helpful in ensuring that I got the most out of my studies without worrying about school runs and extra expenses. This financial assistance was very advantageous as it helped me focus on my studies with fewer distractions. Additionally, the proofreading service was very beneficial especially as English was not my first language. It helped improve my academic writing and increased my quality, communication and presentation grades.
My Access journey has been very inspiring and rewarding. This journey has fostered my positive attitude to learning: adaptability, high expectations and resilience; improved my self-esteem and enhanced my transferable skills.  It has helped me significantly with my written communication skills, especially with grammar.
I have not only grown personally but I am primed for the next stage of my journey: the higher education journey! With hard-work, determination, persistence and commitment, along with the remarkable support of my tutors, LLC1 staff and the whole college, I progressed to higher education and earned a place at Edge Hill University to pursue a Bachelor of Arts in Primary Education with Mathematics.
Finally, as one of the recipients of the Student of the Year Award, I strongly encourage you to believe and trust in yourself. I DID IT, SO CAN YOU! Do not let anyone or anything stop you from achieving your goals. Great things come from small beginnings. Little steps count and make your dreams a reality. Keep moving forward!"
Congratulations on all your fantastic achievements Majah, everyone at Open Awards wishes you all the very best for the future. 
If you would like to learn more about our Level 3 Access to HE Diplomas, please click here.