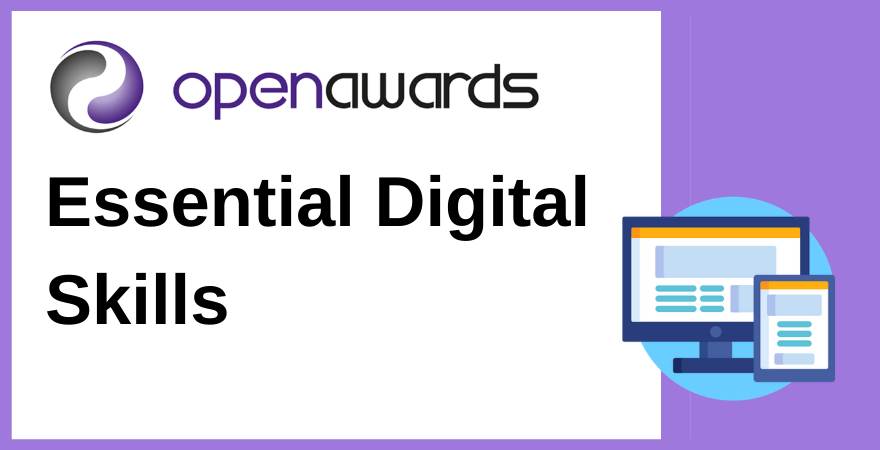 Open Awards is delighted to update our stakeholder network that we are continuing to actively develop and enhance our digital skills offering.
Subject to Ofqual approval, we envisage making our two Essential Digital Skills Qualifications available in Autumn/Winter of the 2021/2022 academic year.
These exciting qualifications will address the critical digital skills and knowledge needed for work and life across the following two levels:
Entry Level
Our Entry Level purpose focuses on developing digital skills for life in general and supporting progression and transferability into work.
Our target: learners with no or little prior experience of using digital devices or the internet.
Level 1
Our Level 1 purpose focuses on enhancing progression and transferability of digital skills for a work context, while also supporting their general use in life.
Our target: learners with some experience of using digital devices and the internet but lacking secure basic digital skills.
The Details
Our qualifications will be suitable for learners aged 16+ only (there are no other restrictions specific to these qualifications)
There are no specified entry requirements needed to register for the qualifications however, there are pre-entry level foundation skills that some learners will need to study before feeling ready to complete the Entry Level qualification (these foundation skills are not part of the standards and will not be subject to assessment - but they will be an important prerequisite)
Teaching resources and sample assessment will be available to support the learner journey
Our expected qualification time is:
Total Qualification Time (TQT) – 60 hours
Guided Learning Hours (GLH) – 50 hours
Total Controlled Assessment time for each level – 2 hours
Our assessments will be split into components and feature a mix of:
Multiple choice knowledge questions
Task based practical work and Observation
Assessments will be taken on our XAMS assessment platform with learners being awarded a 'pass' or 'fail' result for each component of the qualification.
If a component result is 'fail', resits will be available
The DfE Standards
National Standards for Essential Digital Skills
We will soon be able to release further details regarding our agreed assessment criteria for both levels, based on these National Standards.