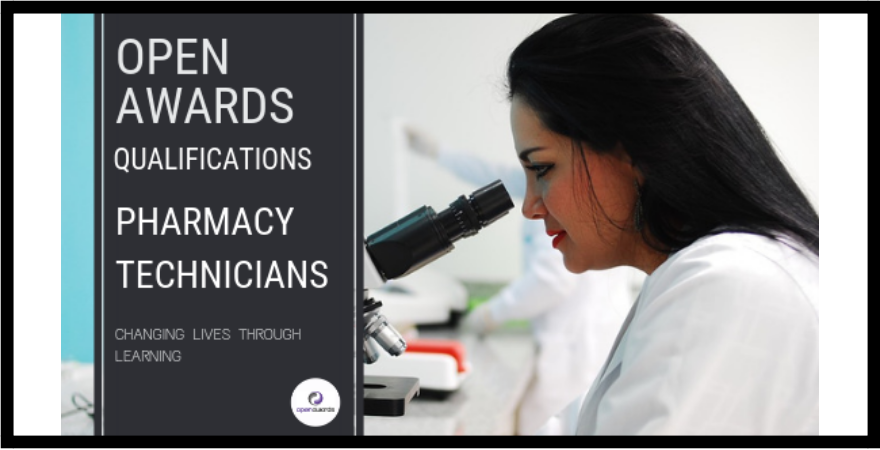 Open Awards are delighted to be one of seven Awarding Bodies working with Skills for Health and Health Education England to develop a new Level 3 Diploma in the Principles and Practice for Pharmacy Technicians.
Having worked collectively over the last 12 months, the content of the qualification has now been finalized along with a common assessment strategy across the Awarding Bodies. It has been designed to be rigorous in meeting the GPhC Initial Education and Training Standards (IET) for pharmacy technicians, whilst providing flexibility to support education providers to deliver and assess learners as required by the local workforce.
This qualification will be delivered over a two-year period to meet the requirements of the statutory regulator and will be available to learners from 1st February 2020 (subject to approval from GPhC and regulation by Ofqual).
Ellen Williams and Liz Fidler, HEE Project Leads said: "We are delighted that this qualification has been submitted to the GPhC and look forward to the outcomes of the recognition event in April. This qualification will provide a solid foundation for pharmacy technician training, and on recognition by the GPhC, it will enable pre-registration pharmacy technicians to register with the professional regulator."[1]
Open Awards will continue to work closely with the other Awarding Bodies, Skills for Health, Health Education England, and General Pharmaceutical Council over the next few months to ensure the final qualification meets the needs of employers, learners and education providers. We look forward to working with providers on their delivery and assessment plans ready for February 2020.
For more information or to register as a centre to deliver this qualification, please contact the team on enquiries@openawards.org.uk or 0151 494 2072
[1] http://www.skillsforhealth.org.uk/news/latest-news/item/742-new-qualification-for-pharmacy-technicians-project-update