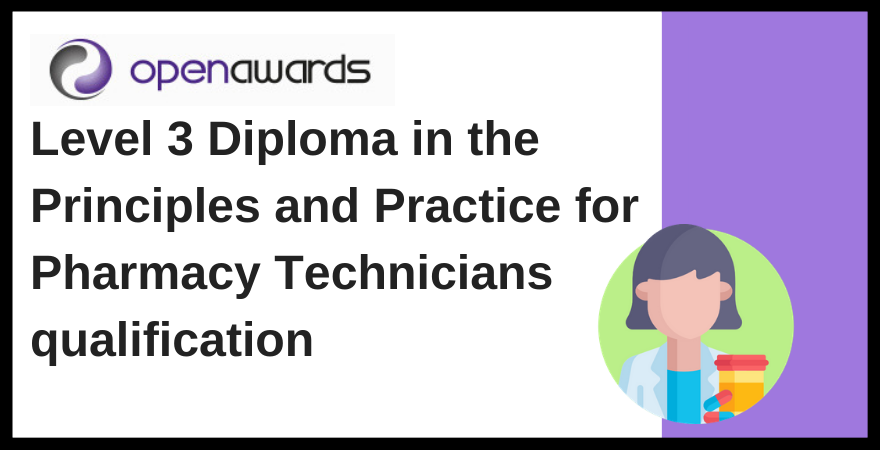 We are extremely pleased to announce that we can now deliver our new Level 3 Diploma in the Principles and Practice for Pharmacy Technicians qualification.
The qualification has been in development for several years and has gone through a rigorous process involving seven Awarding Bodies working with Skills for Health, Health Education England and the General Pharmaceutical Council.
The qualification has been designed to be rigorous in meeting the GPhC Initial Education and Training Standards (IET) for pharmacy technicians, whilst providing flexibility to support education providers to deliver and assess learners as required by the local workforce.
The General Pharmaceutical Council's Director of Education and Standards had this to say about the accreditation;
"In April 2019 the Level 3 Diploma in the Principles and Practice for Pharmacy Technicians qualification learning outcomes and assessment strategy was provisionally recognised by the GPhC. In November 2019, the qualification and its delivery by Open Awards was recommended for full approval for a period of 6 years. This is subject to the Registrar of the GPhC giving final approval, which may take up to 10 weeks. The GPhC recognises that this length of time may impact on the development of the qualification material by centre providers approved by Open Awards. Therefore, the GPhC has given approval by exception for Open Awards to advertise the qualification."
The primary purpose of this qualification is to achieve a license to practice as a Pharmacy Technician. Training to become a Pharmacy Technician is a two-year process and combines study and practical work experience.
This qualification will be delivered over a two-year period to meet the requirements of the statutory regulator and will be available to learners from 1st February 2020 (subject to approval from GPhC and regulation by Ofqual).