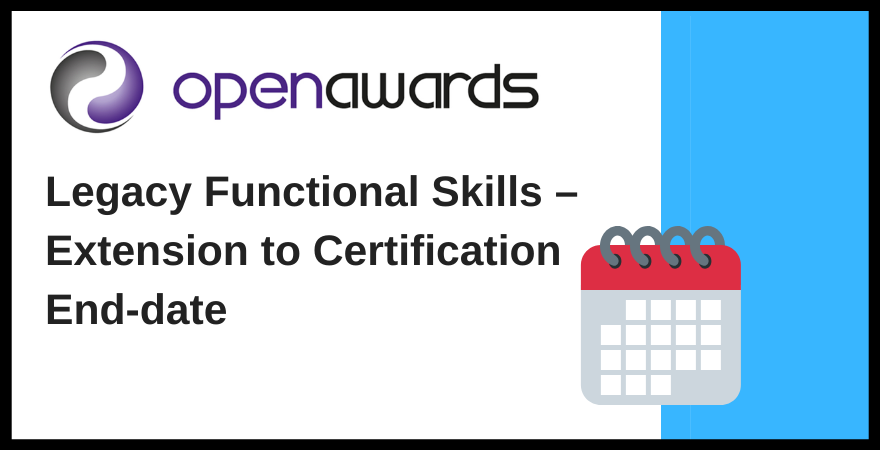 Due to the disruption to assessments this summer, the certification end dates for legacy functional skills Maths and English (Entry 1 – Level 2) have been extended to 31st December 2020. The last date for assessments has been extended from 30th June to 31st October 2020.
As learners on legacy qualifications were expecting to sit their final assessment by end June 2020, we need to ensure that as many as possible have this opportunity. Delaying an assessment to after the summer period should be the last resort for legacy functional skills qualification.
If your learners are able to sit an assessment in the normal way during this period, they can do so. Where learners are unable to sit an assessment in the normal way (either because of circumstances at your centre, or due to their individual circumstances), they should be entered for a calculated achievement grade.  
The revised last date for assessment on legacy functional skills qualifications is designed to support resits and appeals against a fail result (either because a learner has failed an actual assessment or because they were given a calculated fail).
If you have learners who are unable to sit their assessment in the normal way during this period, and for whom there is insufficient viable evidence to calculate a grade, we will work with you on a case by case basis to make an assessment available after the summer period.
We will be publishing further guidance on how functional skills achievement will be calculated in the next couple of weeks, including what evidence will be required to support these calculations.
If you want to talk to the team about the changes to legacy functional skills qualifications, or about any of our qualifications during this time, please contact us on enquiries@openawards.org.uk