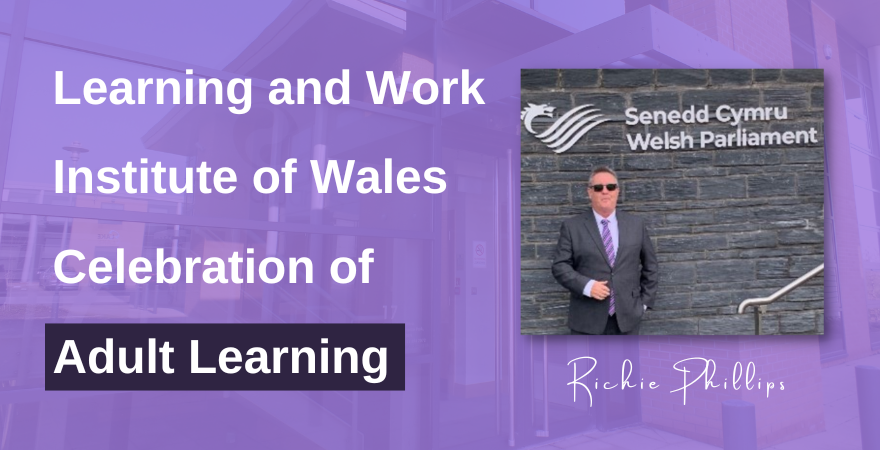 On Thursday 22nd September, Open Awards' Product Development Officer Richie Phillips had the pleasure of attending the Celebration of Adult Learning hosted by the Learning and Work Institute of Wales at The Senedd, Cardiff.
The event promoted Adult Learner's Week in Wales and was attended by Members of the Welsh Parliament, Learning and Training Providers, Awarding Organisations, Housing Associations and Education Authorities. Although the events of the week had to be temporarily postponed due to the Queen's funeral, the celebration at The Senedd went ahead.
The core theme of the celebration was how learning really can transform people's lives and the message of the meeting was simply, "never stop learning". Its centrepieces were the powerful and moving testimonies of the Learning Ambassadors and award winners; all individuals who had reinvented themselves and crafted new futures from seemingly overwhelming odds. Their sense of pride and their gratitude for the opportunity was palpable.
Here are three brief summaries of the wonderful examples provided by the Ambassadors for Adult Learning:
Scott as the result of an unhappy and itinerant school life became a heroin addict and alcoholic, homeless, in and out of prison. He was offered a funded place on a college course by a support worker on the caveat that he stayed "clean". Scott admitted he lied to get on the course and whilst he was not enthusiastic about the prospect, he went along with the offer because he didn't want to return to prison; but he appreciated a roof over his head and hot food. It was not long, however, until he lost his fear of the classroom. Scott became inspired by the tutors and learning, which turned into a passion. Not only did the opportunity save Scott's life, but Scott himself went on to become a tutor/mentor, set up a charity to help train others, was reunited with his parents and started his own family. Scott continues his learning, which he regards as "a gift"; he is currently training in chaplaincy.
Rose came from a travelling community; she lived in a deprived area with a single mother and a disabled brother. Rose enjoyed only a limited amount of formal education, as her mother expected her to assist with household and care chores, Rose then had a daughter of her own. But from what little education Rose had seen, the lack of opportunity to engage in education only made her want it more. When "second chance" learning arrived in her local community, Rose knew she had to grab the opportunity. Life hadn't grown any easier for her, and Rose suffered from very low self-esteem, so the confidence that the tutors provided made a big difference. Little by little, in her community, Rose began to achieve her first milestones and the sense of achievement gathered momentum, to the point now that she completed a Master's degree. Rose says learning is "her time" and regards it as central to her own well-being.
Mark worked as a labourer on a council gang, was very fit and active, but hid the fact that his literacy skills were limited. Even when promoted to network inspector, Mark managed to find ways to either not completing the paperwork or inputting the data, or someone else would do it for him. This was working out for him until one evening when his daughter asked him to help with something she was doing for school, and he had to make up an excuse. Mark said that at this point, "it's time I did something about this". So, when adult learning came to his community, Mark seized the chance, he worked hard to complete his first IT, Maths and English qualifications, with the help of some further one to one support. Mark's sense of self-esteem and confidence improved greatly through adult learning, to the point that one of his biggest fears, standing up and talking to a large group of people, is something he has done regularly as an ambassador for adult learning both in the UK and abroad.
Recent "Inspire" Award winners and nominees also told their own stories with similar passion and pride. These learners had, for various reasons, (including repatriation from the Syrian crisis), had their learning cut short or interrupted, and, with the support of dedicated tutors and mentors, acquired new and powerful skills to reinvent their lives.
One of the Members of the Senedd also shared that he had been de-railed in his youth, had not achieved any qualifications at school and how Adult Learning enabled him to pick learning back up, eventually qualify as a Solicitor and give him the confidence he needed to stand and be elected as a Member of the Welsh Parliament.
Richie's conclusions on this very successful (and humbling) event are as follows:
"The regard for the Learning Providers and Tutors was plain for everyone to see. Those first relationships are vital in setting the foundations for successful adult learning enterprises. Often, the adult learner suffers with a lack of confidence and self-esteem, and in many cases there are other background issues. The tutor becomes a friend, a confidante who is also able to conjure interest and enthusiasm. With the correct support, this can and does grow into a passion which not only changes a life but lasts a lifetime too.
The first stages of engagement are critical. Taster sessions, small, bite-sized, portable learning activities are normally the catalyst. As an Awarding Organisation, it's always in our interests to keep thinking about how we can embrace this, by offering Unit Certification or Endorsed Units in suitable subject areas, with wider progression opportunities aligned to our own qualifications. Community Learning appears very strong in Wales, and the right blend of short learning programmes could work well.
One thing that struck me was that this celebration was very learner-centric; the "enablers" were applauded but this event was very much about the learners. Our Open Awards mission of changing lives through learning appears to align perfectly to that of the Learning and Work Institute.
I am very much looking forward to Open Awards' work in Wales throughout 2023 and beyond".