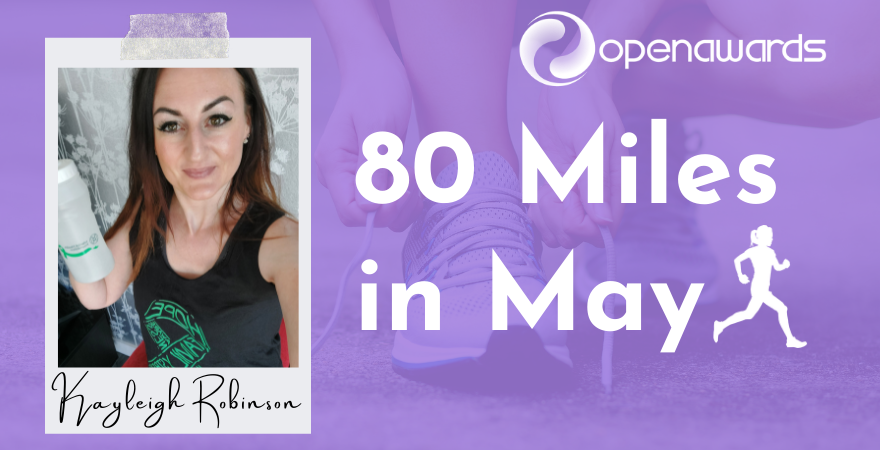 This month, Open Awards' Kayleigh Robinson is taking part in the 80 Miles in May Challenge run by the Mental Health Foundation.
Kayleigh who works as an Assessment Delivery Manager (IQA) at Open Awards, is passionate about raising mental awareness and no stranger to going the extra mile in the name of charity! Last year, she completed 100KM for MacMillan before signing up for a 5K Pretty Muddy event in aid of Cancer Research UK.
Speaking ahead of the 80 Miles in May Challenge, which she started over the bank holiday weekend, Kayleigh said:
"Everyone knows someone, if not themselves who are/have been affected by mental health right? The pandemic has also had a huge impact on individuals suffering with mental health. As May 9th-15th is officially Mental Health Awareness Week, I decided to explore ways that I could be involved in supporting such an important charity. Building a society where mental health is everyone's business should be a no-brainer - prevention is possible! I am no runner! But I am just going to focus on getting through the miles each day and raising money - slow and steady wins the race. Exercise is the most potent and underutilised antidepressant and it's free! Wish me luck (I'll need it)!"
If you would like to make a donation, information about Kayleigh's fundraiser page can be found here. To learn more about the Mental Health Foundation's 80 Miles in May Challenge, please click here. 
Mental Health Awareness Week: 9-15 May 2022
Mental Health Awareness Week is an annual event when there is an opportunity for the whole of the UK to focus on achieving good mental health. The Mental Health Foundation started the event 21 years ago. Each year, the Foundation continues to set the theme, organise and host the week. The event has grown to become one of the biggest awareness weeks across the UK and globally.
This year's theme is 'Loneliness'.
Why Loneliness?
Loneliness is affecting more and more of us in the UK and has had a huge impact on our physical and mental health during the pandemic. Our connection to other people and our community is fundamental to protecting our mental health and we need to find better ways of tackling the epidemic of loneliness. We can all play a part in this.
Working conditions and environments can have a huge impact on mental health and equally, someone's mental health can have a significant impact to perform well in their job. 1 in 6.8 people are said to experience mental health problems in the workplace (14.7%).
Furthermore, women in full-time employment are nearly twice as likely to have a common mental health problem as full-time employed men (19.8% vs 10.9%). Evidence also suggests that 12.7% of all sickness absence days in the UK can be attributed to mental health conditions.
Mental Health Qualifications
Increasing mental health awareness and having a better understanding of how to support those who may be struggling is so important in every walk of life. Open Awards offers a range of qualifications in the following disciplines: 
Whether you're looking to study or deliver any of the above qualifications, please do not hesitate to get in touch with us.