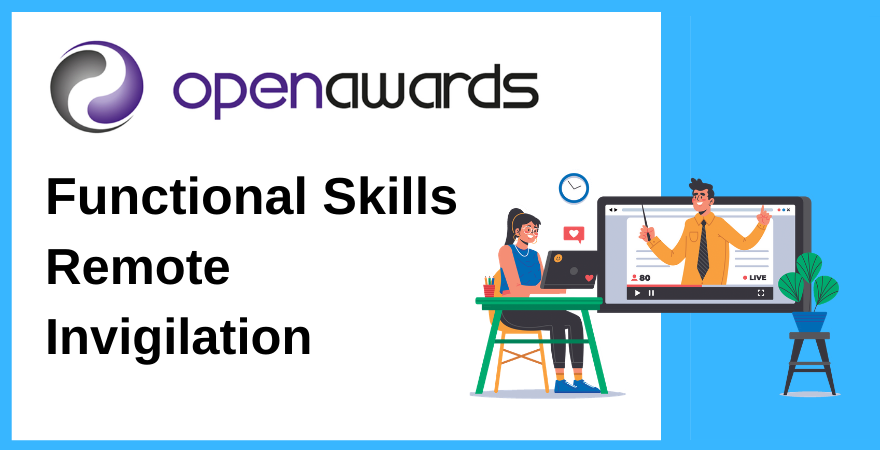 Open Awards are delighted to announce an exciting new addition to our current Functional Skills qualification offer.
For Levels 1 & 2 in Functional Skills English & Maths, Open Awards can now deliver a remote invigilation service and thus, eliminate the need for you to provide your own invigilators. Scheduling for this service is now live on the XAMS platform for you to select.
Key benefits of selecting this delivery option: -
Removes the need for you to recruit, induct and train your own invigilators
Potential to scale up your assessment volumes
Reduce pressure on your existing invigilator resource
Greater flexibility for your learners about when they can sit their assessments
You are still fully informed of the arrangements and notified as soon as the results are available
Assessments will primarily be invigilated via the Zoom Platform which many learners are already familiar with (Note: other platforms can be accommodated by arrangement)
Assessments can be scheduled up to five working days' before the assessment date (Note: this will be longer if a request for reasonable adjustments is made)
Integrity is maintained as invigilation will be robustly delivered in line with our Instructions for Conducting Controlled Assessments Remotely which you will be familiar with.
As an approved Open Awards centre, you would of course still be responsible for the learner being adequately prepared for their assessment, both in terms of knowledge and familiarisation with the systems and what to expect with remote invigilation.
Ready to schedule learners now? Please select the "Open Awards Invigilated" option from the "assessment" drop-down menu in XAMS when entering the schedule details.
Make sure we have the learner's email addresses so we can liaise with them. These can be submitted by using the updated "learner registration form (LRF)" available from the Open Awards secure portal. If you have already registered a learner with us, please email customerservices@openawards.org.uk once you have scheduled an assessment in XAMS to inform us of their email address. Please include the "schedule name" when doing so.
Once you have scheduled your learners via XAMS for assessment, choosing the Open Awards invigilated option, Open Awards handles the following for you:
appoints the invigilator,
liaises directly with the learner,
invigilates their assessment.
If you'd like more information about adding Open Awards Invigilated into your learner offer, please call 0151 494 2072 for a chat with our Customer Services Team