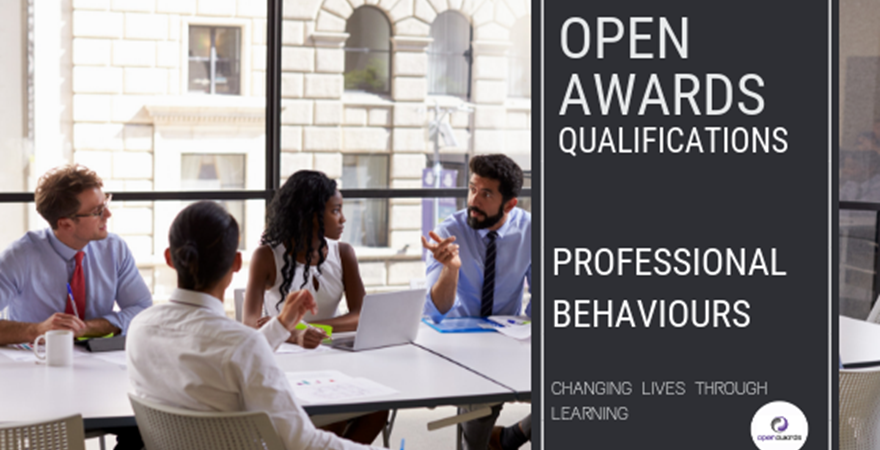 Our brand new Level 2 Award in Professional Behaviours is now available. With units including critical thinking, resilience skills and practical presentation skills this qualification aims to equip learners will the skills and behaviours essential for further academic learning and life in the professional world.
Profession Behaviours is an Award that will not only provide a framework upon which learners can use for the rest of their lives but It will illustrate their desire to better understand the etiquette and conduct expected in the world of professional employment.
An Award in Professional Behaviour can benefit the learner's career and improve chances of future success in many ways. Attributes such as, ensuring a positive working attitude, improve effectiveness, a consciousness of how you treat co-workers, colleagues and clients are essential professional behaviours that will help progress and develop tomorrow's workforce.
The primary purpose of this qualification is to prepare you for the next level of learning by providing you with skills and behaviours essential for both further academic learning or employment pathways. Designed to be relevant for a wide range of academic or vocational areas, this qualification will provide you with a strong foundation of professional behaviours that will support higher level learning.
In order to achieve the skills, set out in the Professional Behaviours qualification the learner will cover a number of key elements such as;  
Report Writing
Critical Thinking
Resilience Skills
Time Management
Practical Presentation Skills
Research Methods
The qualification has been designed to support progression to further learning and employment and therefore aimed to learners who are looking to develop academic skills to support higher level learning, those working at or towards Level 2 and learners preparing to progress onto an apprenticeship, Level 3 learning or into employment.
The behaviours and skills within the Level 2 Award in Professional Behaviours have been included to provide learners with skills sought after by employers to support high performance within future employment.
If you would like further information on this and any of the other qualifications we have on offer then please click here and here.