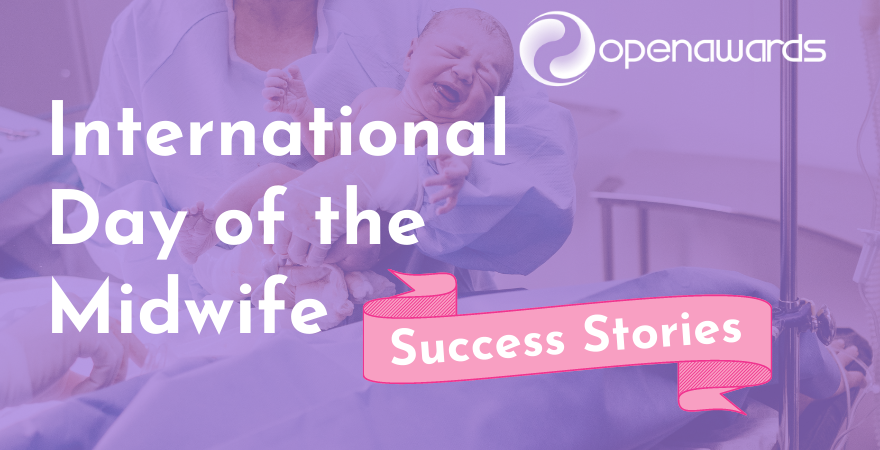 On the 5th of May, International Day of the Midwife is celebrated throughout the world. The event was made official in 1992 when it was launched formally by the International Confederation of Midwives to show appreciation for the wonderful work carried out by midwives everywhere. 
Each year, a core theme is selected with previous examples including: healthy families, newborn babies, partnerships between midwives and mothers and leading the way with quality care. 
As the theme for International Day of the Midwife 2022 is '100 years of progress', we thought it would be the perfect opportunity to celebrate two former Access to HE learners who completed the Open Awards Level 3 Access to Midwifery course at Southport College and have since progressed to university. They are: Natalie Pye and Ed Morphet.
Natalie is currently studying a BSc (Hons) Operating Department Practice at Edge Hill University. Reflecting on her Access to HE experience, Natalie said: 
"As a mature student, I was apprehensive to enter the education system again and certainly didn't know what to expect. I had no idea whether I would be able to understand the course content, let alone keep up with the level of external work and assignments required. I was very quickly put at ease in this regard. Tutor dedication was evident from the beginning of the programme. 
The Access course is extremely demanding and requires a great deal of focus and determination; it is not for the faint-hearted. However, the outcome makes everything hugely worthwhile. The tips, tricks and techniques taught to us for study, note taking and application have prepared me for university and have given me an invaluable grounding.
Whilst gaining my place at my chosen university Edge Hill, to study ODP was the overall aim; I found the most important thing that I took away from the Access course was self-belief. I proved to myself I could do it, dedicate myself to the programme and master the time management. I completed with a full distinction profile. This has been a massive achievement for me personally and I now know that I can do whatever I put my mind to. Without this Access course, I would not have been ready for the challenges of university life but I am now sat ready and eager to go with the end goal of completing my masters in sight."
Ed is also now at Edge Hill University, though he has chosen an alternative route to a career in healthcare. Ed decided to study for a BSc (Hons) Nursing (Adult) degree; looking back on his time as an Access to HE student, he commented: 
"I really enjoyed my time at Southport College. Even though the course was intense and difficult at times, it has enabled me to get my place at university with the tools I need to succeed. The staff at Southport College do everything they can to help you get where you want to be and go above and beyond for their students."
We would like to take this opportunity to wish both Natalie and Ed the very best for the future and to thank all the midwives out there for their amazing efforts. 
Access to Higher Education Diplomas can change lives, they offer learners a pathway to further study and ultimately, their dream career. If you would like to learn more about our Level 3 Access to Nursing, Midwifery and Allied Professions diploma or any other qualification available through Open Awards, please do not hesitate to get in touch.