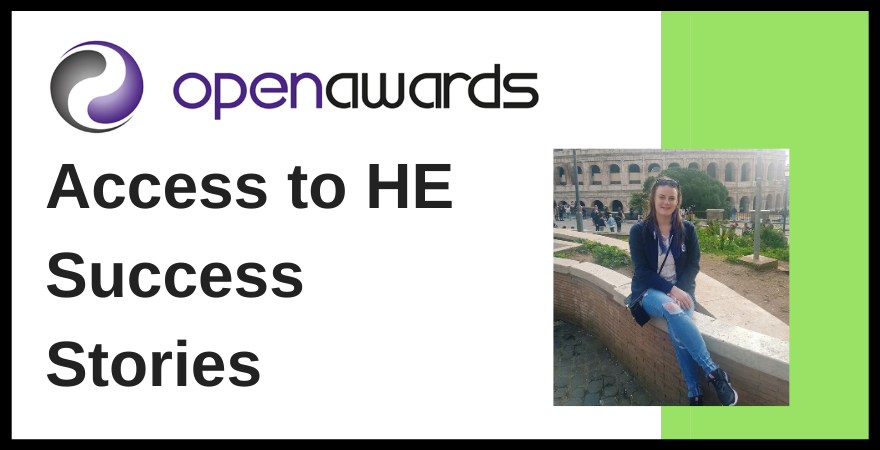 Our Access to HE Diplomas is a life-changing qualification and an alternative route to university and there is nothing better than hearing about it from those who have done it. 
Recent Tameside College graduate, Sophie Brennan told us her amazing journey into Access to HE, her reason for doing it, and her plans going forward.
I thoroughly enjoyed my course at

 

Tameside and

 the nursing and the science course. I found them both to be very interesting and tailored to a wide range of university course subjects.
The tutors were amazing there, down to earth, easily approachable, and supported me until the end. Not just in the course subject but if you had anything else on your

 

mind

 

they would happily chat about it.
The college itself also supported a wide range of issues, one thing I tend to struggle with is interviews. The course I applied for at university had an interview process to determine whether I was accepted into the course or not. The college had a student service that would provide practice interviews and give feedback where needed, this helped me a lot. 

 
I also liked the fact that it is an adult course, meaning the majority of the time the students that were on the course actually wanted to be there and learn. We all supported each other and built solid friendships. 

 
My next step is to start university in September to study physiotherapy and hopefully complete the course and start my career. 

 
I highly recommend an access course to any adult that is considering going to university or wanting to better their career. The tutors and the staff at the college are fantastic and they want to help as much as they can. They push you to exceed and support you wherever you need it. 

 
I am really looking forward to it, I'm nervous but excited too. It's something I've always wanted to do and I will have stability for me and my son with a career I know I will enjoy.

 

 
I initially chose the Access to HE course as the university I wanted to do accepted them. The reason I had completed two access courses is because the course I wanted to study preferred the 

science-based

 

course over the nursing and allied health professions course.

 
I am over the moon as the science course is very different from the nursing course, I am shocked myself I managed to grasp a lot of the course modules. But I thoroughly enjoyed it and each of the tutors was brilliant and very helpful. 
I was given a conditional offer from both Manchester Metropolitan and Salford University, I chose Salford in the end because of the effort and support they gave me throughout the lockdown, their online visit day was brilliant. I am starting in September to study physiotherapy, once they've received certificates of my science grades. 

 
A

ccess to HE is an amazing way of helping adults achieve goals they might not have been able to achieve at a younger age

.

 

 
Everyone at Open Awards would like to thank Sophie for her amazing story and wish her every success as she prepares for her journey at university.
For more information on our truly life-changing Access to HE Diplomas please click here