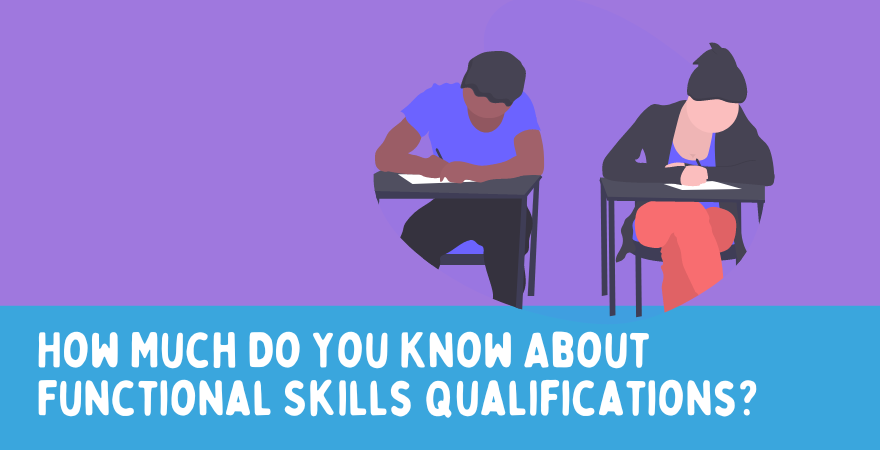 It's no secret that we love Functional Skills at Open Awards. We are incredibly proud to be one of just ten awarding bodies that offer these essential qualifications, and one of only six awarding bodies to offer Functional Skills at Entry Level.
But... how much do you really know about our offer?
For example... did you know?
Our on-screen English and Maths Functional Skills assessments can be taken anywhere at any time.
Evenings, weekends, night shifts... we have invigilated assessments every day of the year and at all times of the day, evening and night. Our flexible remote invigilation offer means you can choose an assessment time and venue to suit you. Do you want an entirely flexible Functional Skills service?
Our remote assessments are invigilated by a person not a computer.
We see every day why this is so important. Minor technical issues are sorted by invigilators there and then and learners are supported through the experience by a supportive and knowledgeable invigilator. Do you want to introduce remote assessments, but want to ensure robust support is provided?
We focus as much on our Entry Level Functional Skills qualifications as we do Levels 1 and 2.
We know the difference Entry Level qualifications can make to learners on their journeys to employment and independent living. We are one of only six awarding bodies to offer entry level Functional Skills maths and English, and have invested as much into these assessments as Levels 1 and 2. Do you want to find out more about how we support learners at Entry Level?
We offer paper-based assessments at Levels 1 and 2.
We know there is still a high demand for paper-based assessments and continue to make these available for learners. Do you need to access paper-based assessments for some or all of your learners?
Our achievement rates are on the rise.
Open Awards reviews our achievement rates on a monthly basis, and we are proud that more learners are passing first-time and more certificates are being awarded every month. Do you want to work with Open Awards to support your learners achieve?
Our registration numbers are growing.
We are the only awarding body to see an increase in our learner registrations over the last two years.
We are proud that we are bucking the trend and welcoming lots of new providers and learners into the Functional Skills family at Open Awards. Do you want to find out why providers and learners are choosing Open Awards?
We are developing on-screen assessments for Entry Level 3 maths and English.
We know some Entry Level learners would benefit from being able to take their assessments on-screen, including to prepare them for progressing to Levels 1 and 2. That's why we're investing in developing on-screen assessments for Entry Level 3. Would you like to be part of the pilot for Entry Level on-screen assessments?
We consistently release results for on-screen assessment within 10 working days.
We know waiting for a result isn't easy. That is why our marking and assessment delivery teams are committed to turning results round as quickly as possible. Although our published timescales are 16 working days, 98% of results are released within just ten working days. Do you need a quick turnaround of results?
We are committed to accessibility across all levels of Functional Skills.
We have a dedicated in-house assessment development team who are experts in their fields, and work hard behind the scenes to review every word of every assessment we use to ensure they are as accessible as possible. Do you have ideas on how Functional Skills assessments can be made more accessible to learners?
We are continuing to invest in supporting learners prepare for their assessments.
We have a wide range of resources, practice papers and questions. We also provide individual feedback for every assessment taken on where learners performed well against each specific scope of study, and where further teaching and learning would help before a resit. Would you like to see the resources available to support your learners?
If you answered an empathic 'yes' to any of the above, then why not have a chat with us at Open Awards to see how we can work together? You won't find a more passionate or dedicated team when it comes to Functional Skills!