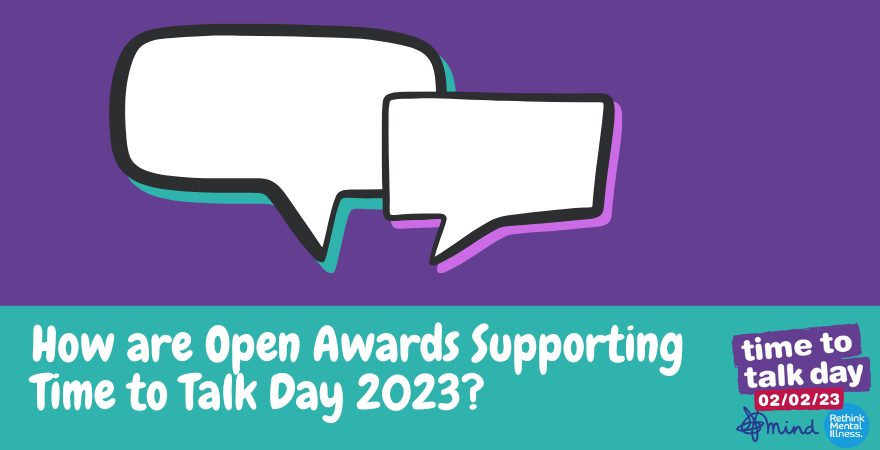 Highlighting the importance of positive mental health and raising awareness of the triggers that can have a negative impact on a person's well-being is something very close to our hearts as an awarding organisation and registered charity. 
Organised by Mind and Rethink Mental Illness, in partnership with the Co-op and with support from Time to Change Wales, See Me and Change Your Mind / Inspire; Time to Talk Day is the nation's biggest mental health conversation, aiming to create supportive communities, families and workplaces through conversations around mental health.  
In addition to providing vocational qualifications such as mental health awareness leadership, peer mentoring and mentoring children and young people; Open Awards is undertaking several initiatives to support our stakeholders. Time to Talk Day 2023 is a great time for us to reaffirm our commitment to supporting our colleagues and partner providers.    
Speaking on these initiatives, Heather Akehurst, Chief Executive said
It

's important for us at Open Awards to have a diverse workforce and with that comes the need to be a responsible employer and to support colleagues. We have a Health and Wellbeing group who help us with this and have created diverse activities as coffee mornings, the new Buddy scheme, Menopause meetings, our annual walking challenge (shortly to be extended to challeng

ing

other AVAs), meditation and mindfulness sessions as well as a host of other activities.

 
Recently we reached out to Transform Lives Company who received funding from Life Rooms Liverpool for Liverpool residents to offer a full day workshop on building resilience and managing your emotional health. We've been discussing ways that we expand that to offer it, not only to all staff, but our providers too. We recognise that everyone in the learning and skills sector are working incredibly hard coming out of a pandemic and facing more changes in funding and

regulation,

so it was important to us to support them. We'll be rolling out a package of online resources and sessions looking at giving people tools to manage their own emotional health and there'll be some fun along the way!
If you would like more information about this exciting new partnership with Transform Lives Company, or any other initiatives then please get in touch with us!