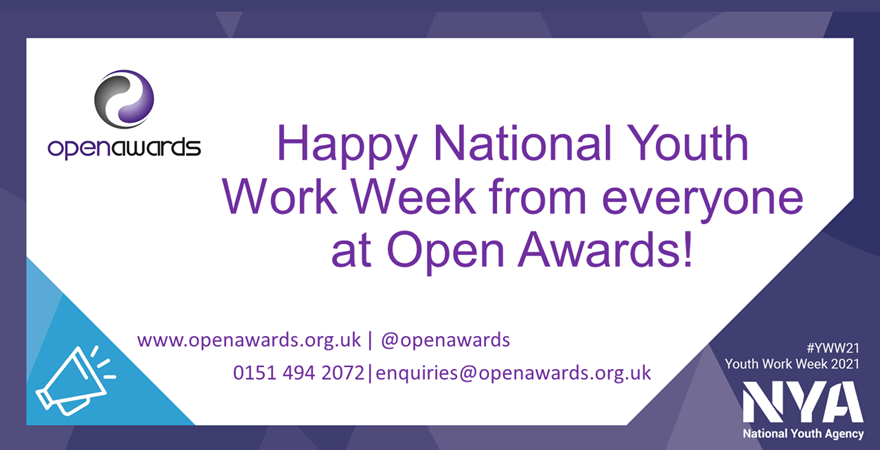 Nina Hinton, Director of Business and Development. 
Interview with Kevin Jones, National Youth Agency 
Interview with Julie Goodwin, Product Development Manager 
I am delighted that Open Awards is able to support National Youth Work Week 2021.
Youth work is where my passion for education and the third sector started. I have held various roles in youth work, volunteering at local youth groups when I was a teenager, through to working as a youth worker and then managing youth provision and educational projects for young people with disabilities or special educational needs in Greater Manchester. I now work for Open Awards and love that I can continue to champion youth work through our development of youth work qualifications working with the National Youth Agency and other awarding organisations nationally.
As an awarding organisation, we know the important role that youth work plays alongside formal education to support the skills development of young people. There are continued calls for a focus on transferable and soft skills for our young people – youth services are well positioned to support this. I have the best memories of seeing young people develop strong communication skills with peers and adults; learn about healthy and positive relationships; explore their aspirations for future employment and independence; understand the importance of working in a team and supporting each other. Asking questions; exploring ideas; learning new skills; and more importantly having fun outside of their families or school environments.  Youth services provide a safe and fun environment for young people to challenge themselves; to challenge each other; and to challenge the youth worker themselves. I know I developed a huge amount myself by learning from the young people I have had the privilege of working with.
This year for National Youth Work Week, I am committing open Awards to an increased focus on championing youth work. We will work over the next 12 months to showcase the amazing work the providers we work with do and continue to support the development of the future workforce for youth work and youth services. I am particularly excited that we have now committed to developing the end-point assessment for the Level 3 Youth Support Worker apprenticeship Standard. We are lucky enough to work with some fantastically passionate subject experts to develop our assessments and are hoping to launch early next year, so watch this space! If you would like to be involved with this development, please do get in touch with us.
Finally, just to say happy National Youth Work Week to all the youth workers, volunteers and young people!
You can view our Youth Work Qualification Suite by clicking here.