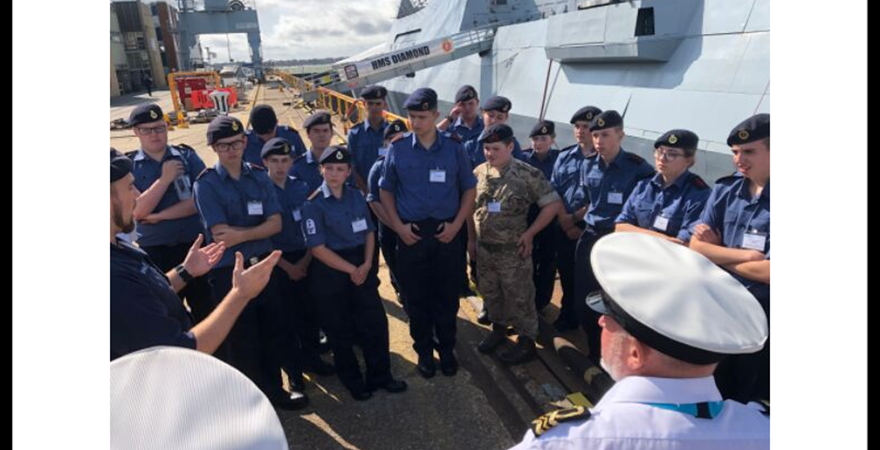 19 Sea Cadets from all over the UK attended an Open Awards Level 1 Certificate course in Exploring Maritime Studies (Vessel Engineering) held in the Defence School of Marine Engineering in HMS Sultan during the last week of July.
The course comprised practical evolutions along with classroom study with Sea Cadet Marine Engineering Instructors working alongside Instructors from HMS Sultan to deliver the lessons.  The Cadets took part in studies relating to the use and care of tools, ship stability, leadership, safety at sea and careers at sea with both the Royal and Merchant Navies. The cadets also had the opportunity to visit HMS Diamond in dry dock in Portsmouth Naval Base and also to the naval mission systems research facility operated by Qinetiq in Gosport, near to Fort Blockhouse.
The Cadets thoroughly enjoyed the visits and the course as a whole with several Cadets seriously thinking about changing their career choice! One Cadet, who had recently left school and planning to find a job at home and to then join the RNR as an ME rating when 18, advised that he was now almost 100% convinced that he will join the RN now on an Engineering Technician course. At least another two showed a very healthy interest in joining the submarine service as Marine Engineers, this after a long discussion with the HMS Sultan course (and STEM) liaison officer Lieutenant Will Barker RN who is himself a Marine Engineer Officer in the Submarine Service.
The support of all within HMS SULTAN was well received and to the highest level possible. The provision of instructional facilities (classrooms and practical) etc is excellent; the very positive attitude and professionalism of SULTAN instructing staff leading the cadet lessons was impressive and a credit to the establishment.
Rear Admiral Marshall CBE, himself a Marine Engineer, visited on the Monday of the course and spent a morning chatting to the cadets in their various classes. Course completion certificates were presented by Captain Matt Bolton RN, also a Marine Engineer, who praised the cadets for their achievements over the week. Captain Bolton also reinforced the general feeling gained from the staff in HMS Sultan that the course should, and hopefully will, become a permanent entry in Sultan's, and The Sea Cadet, annual diary, a tremendous and well respected legacy from the Royal Navy's input into the "2018 Year of the Engineer" initiative. 
Planning for next year's course has already started!
If you would like any more information on this, and all of the other amazing qualifications we offer, please click here.