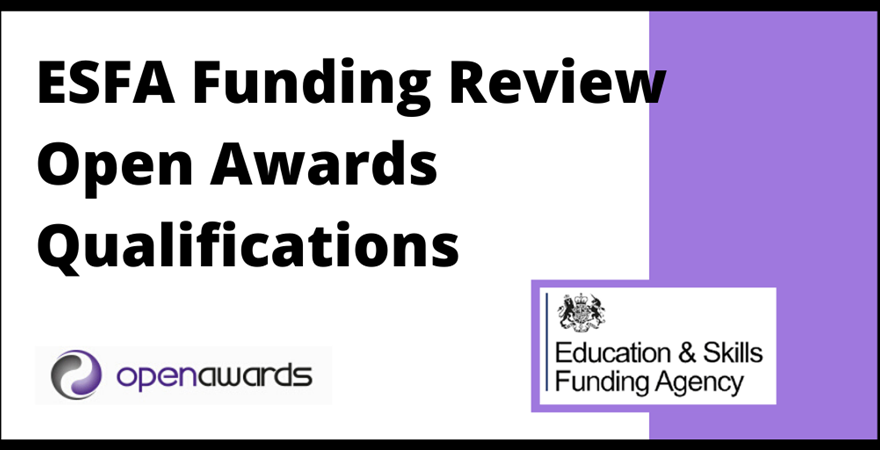 The ESFA have announced that they are reviewing the funding status of qualifications with low uptake.
The intention of this review is to withdraw funding approval for these qualifications from:
16-19 study programmes
ESFA funded adult education budget including legal entitlements and local flexibility
Advanced Learner Loans
European Social Fund
Please click here for the list of Open Awards qualifications in scope for this review.
If funding is withdrawn for these qualifications, it means that ESFA will not fund any students starting on these qualifications from 1st August 2021. They will continue to fund students who have already started on qualifications on this list before 1st August 2021.
This does not mean that Open Awards will be withdrawing the qualification from the Ofqual register so those of you who are utilising the qualifications through other funding streams will not be affected. Our qualifications will continue to go through a cycle of reviews to ensure their ongoing validity.
We will be submitting evidence to ESFA to retain the funding status for qualifications where we have a clear rationale from our providers. Therefore, if you are currently using, or intend to use, any of the qualifications on the list, and will require ESFA post-16 funding to do so, we would be grateful if you could provide the following information:
Which qualification(s) you are utilising or intend to utilise
Which funding stream you use
Any indication/estimate of anticipated learner numbers over the next 24 months
A rationale for the use of the qualification(s)
If it is easier to talk this through, please contact; nina.hinton@openawards.org.uk or 07890 544 956
Julie.goodwin@openawards.org.uk or 07904 654 066
All evidence has to be submitted to ESFA by 27th March 2020 so we would be grateful if you could provide any information you think would be useful by Friday 13th March.