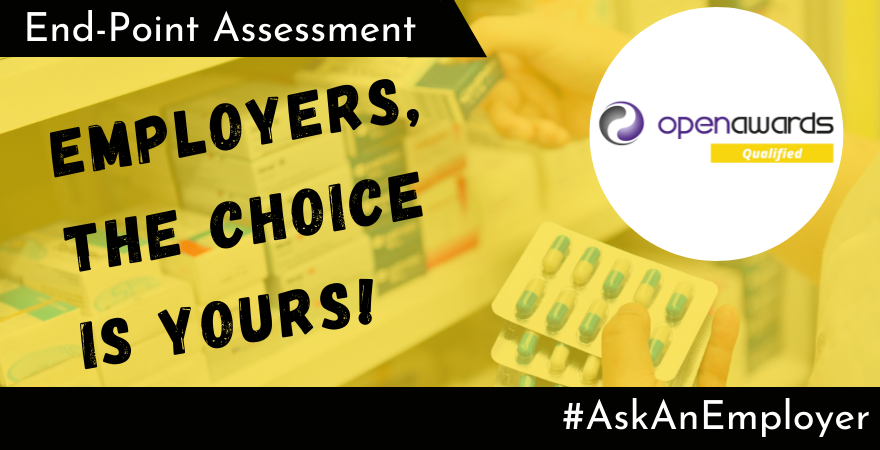 With National Apprenticeship Week now in full swing and today's topic of choice #AskAnEmployer focusing on the various benefits that apprenticeships can bring to businesses; we couldn't think of a better time to discuss Open Awards' End-Point Assessment (EPA) offering.
Throughout this post, we'll be sharing some exciting updates on our growing EPA portfolio before touching upon the extensive support service provided by Open Awards to ensure that employers are choosing the right End-Point Assessment solution for their needs.
End-Point Assessment at Open Awards
Open Awards entered the EPA market a little over twelve months ago and is now an approved End-Point Assessment Organisation (EPAO) for the following apprenticeship standards:
We are delighted to report that as of the 8th February 2022, six apprentices have achieved their Level 2 Pharmacy Services Assistant apprenticeships, with another forty progressing to gateway over the next six months. In addition, our first Level 3 Pharmacy Technician apprentice is also due to go to an awarding panel in the next couple of weeks!
Open Awards' End-Point Assessments complement our vast Ofqual Regulated Qualifications suite and have been developed in conjunction with both the General Pharmaceutical Council and the National Youth Agency. Furthermore, all assessment materials and corresponding support documentation for apprentices, employers and training providers are built and reviewed by experienced industry subject experts.
As our portfolio continues to grow, we're also constantly on the lookout for End-Point Assessors from industry who can offer currency of expertise to help Open Awards expand into other apprenticeship standards and welcome any expressions of interest.  
How Open Awards Supports Employers as an End-Point Assessment Organisation
Open Awards' End-Point Assessment services have been designed to provide employers with all the support they need to make an informed decision when selecting the most appropriate EPAO for their specific requirements as it should always be the employer's choice.
We've utilised our wealth of knowledge in the development of vocational qualifications to create a high quality End-Point Assessment offering, available at a competitive price, that is credible and underpinned by robust quality assurance processes.
Benefits of working with Open Awards:
Comprehensive EPA handbook and support materials for employers, apprentices and training providers are readily available for every apprenticeship standard.
Flexibility to accommodate an employer's individual needs and circumstances i.e. unusual hours.
Scope to develop new apprenticeship standards where there may be an unfulfilled need, a skills gap, employer interest or a collaborative opportunity.
Open Awards' vast experience in education, training, quality assurance and assessment as both an Awarding Organisation and Access Validating Agency for Higher Education.
If you would like to receive more information about using Open Awards as your End-Point Assessment Organisation, please do not hesitate to contact us on 0151 494 2072 or by emailing enquiries@openawards.org.uk.