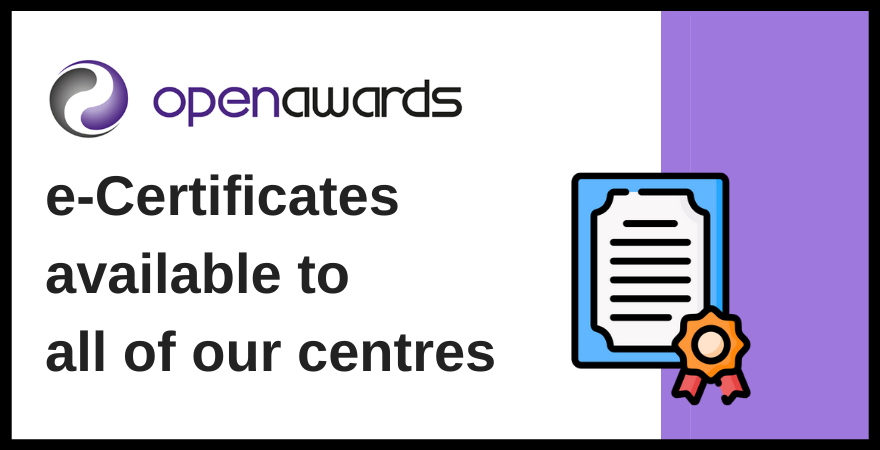 Open Awards now offer e-Certification. E-certificates are fully secure and enable you to view and download electronic versions of certificates through our secure portal. This service is available to all Open Awards centres offering faster certificate turnaround times.
How to Set Up
To activate e-Certification for your centre please contact Open Awards by emailing customerservice@openawards.org.uk.  e-Certificates can be enabled for all courses/qualifications at your centre OR you can select courses and or qualifications individually.
How to Access
Log into the Open Awards Secure Portal using your Administrator Profile and simply click on e-Certificates within your course run to download.
Further details on downloading e-Certificates can be found in the Secure Portal Guidance.
Verifying authenticity of an Open Awards Certificate / e-Certificate
All our certificates, paper and e-Certificates, have a unique QR code embedded.  This code provides secure authentication of the certificate through AuthentiQual.com verification.  Scanning this QR code from a paper certificate OR on screen using any QR Reader app provides secure authentication of the certificate.
Certificates can also be verified by visiting the Check a Certificate page and entering key information from the certificate e.g. learner name and certificate number you will receive immediate confirmation of that certificate's authenticity.
Further information on e-Certificates can be found here