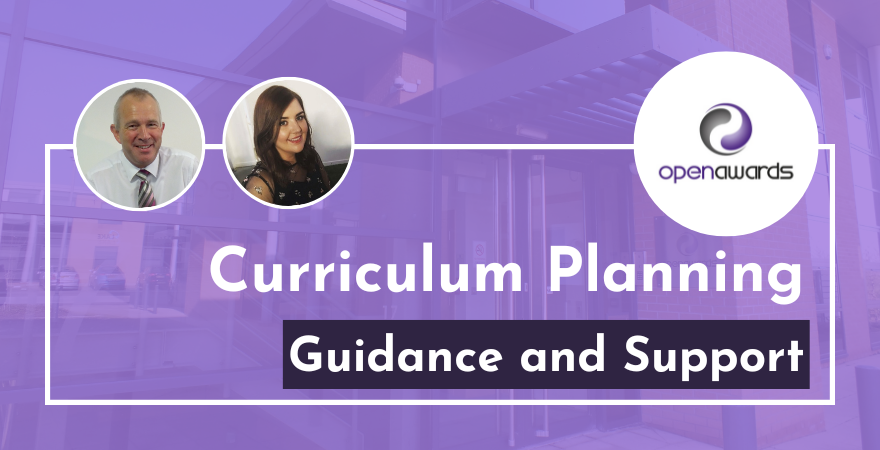 The Business Development Team at Open Awards have recently introduced additional ways for our providers to access Curriculum Planning and development support from either Peter Steel or Irene Oliver.
Once the Provider Approval process is complete, we provide the opportunity for you and / or your colleagues to have free and no obligation Curriculum Planning guidance and support.
Sessions are offered to ensure that you maximise the opportunities your Approval provides and can be accessed in various ways. These include:
Weekly "Curriculum Surgeries" – an open drop-in session where you can ask questions, discuss your requirements, or seek clarification. Click here for further information.
Monthly "Planning your Course" webinars starting in December 2022. These will be advertised on our website soon.
A dedicated Curriculum Planning meeting via Teams – booked directly through either Irene or Peter. Alternatively, call our Customer Service Team on 0151 494 2072 and they will book a meeting for you.
Email or call either Irene or Peter at any time (see contact details below). 
Providers have confirmed that these meetings offer a valuable source of information, guidance and support either from a new or existing Provider perspective, but don't just take our word for it... 
"Once I registered, I organised a face-to-face meeting with Peter Steel to look at curriculum planning and to devise courses appropriate to the needs of my students.
The support and guidance Peter offered was of the highest quality and was delivered in a professional and empathetic way to someone who had little experience in this field."
Rachel Brickman, Director, Hungate Health & Hygiene
"A very informative and useful meeting.  We felt supported and understood."
Ann Snagg, Programme Director, The Tim Parry Johnathan Ball Foundation for Peace
"The meeting was easy to arrange and your colleague fitted around the times convenient to ourselves. Great service!
"Irene Oliver was extremely helpful and guided us through the process really well. She explained the timescales and the criteria in detail and her advice was welcomed, coherent and supportive."
Kevin Norris, Curriculum Manager, Wirral Lifelong Learning Service
"Peter visited our centre to provide curriculum advice. This was really beneficial as he provided crucial advice which helped us structure our courses correctly and also enabled us to see ways to provide better outcomes for our students."
Stevie Williams, Assistant Vice Principal, Mo Mowlam Academy
We hope you've enjoyed this post and look forward to speaking with you soon.
Peter Steel
E: peter.steel@openawards.org.uk
M: 07904 653887
Irene Oliver
E: irene.oliver@openawards.org.uk
T: 0151 494 4351