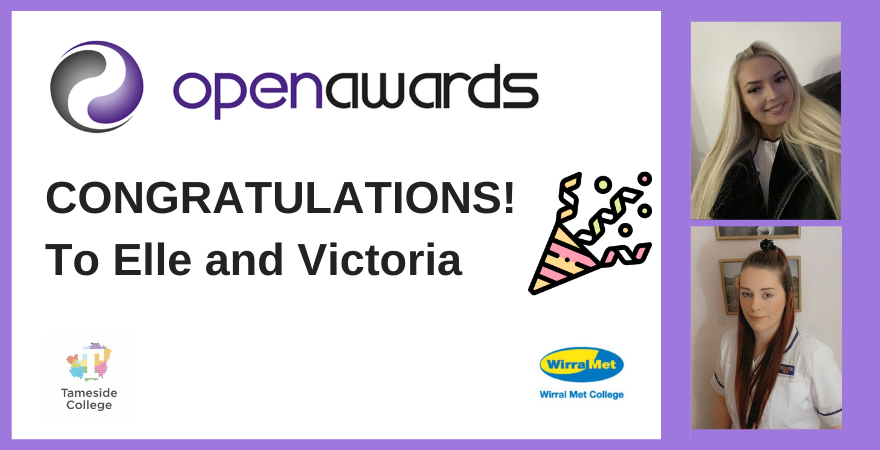 Earlier this month two Access to HE learners, Elle from Wirral Met College and Victoria from Tameside College, were announced as runners up in the prestigious Keith Fletcher Memorial Prize. 
The prize celebrates and acknowledges the hard work and dedication of Access to HE  learners. Learners are nominated by their colleges for two categories 'Outstanding Academic Achievement' and 'Outstanding Commitment to Study'.
Elle was nominated for Outstanding Academic Achievement and Victoria Outstanding Commitment to Study. Both received runners up certificates and the applause of all involved. 
Here's what Elle and Victoria had to say about their time in Access to HE, their future and getting nominated for the prize. 
Victoria  
I studied the Level 3 Access to HE Nursing, Midwifery and Allied Professions, as I wanted to get into university to do children's nursing.
I found studying in lockdown a challenge with the 5 kids at home but I also found it a bit of an escape away from the horrible situation going on, I hadn't got a place at Salford and didn't have the grades for Manchester who had offered me a place so knew I had to get my grades through actual work and not just rely on the predicted grades to get in.
I'm now at Manchester University doing children's nursing and I hope to qualify and become a neonate nurse after losing my niece in 2016 its been my main goal to get there.
I was overwhelmed that I had been nominated for this award as there were so many fantastic people on the course alongside me also dealing with things in their personal lives. It means so much knowing I came runner up after having to do work at the side of hospital beds etc it would've been so easy at times to give up but knowing people could see how hard I was trying and then to be nominated for this was absolutely lovely but a lot of credit has to go to my two tutors Paul and Andrew and my friends on the course for helping me achieve it.
 Elle
I studied Chemical and Biological Sciences and I'm now doing a chemistry degree apprenticeship in Innospec for the Customer Technical Service in Fuel Specialities.
This is all distance learning which is good as you can learn from anywhere and all the information is there to access, it can be challenging but it's all about adapting to the resources you have and the tutors and my colleagues are all so helpful. Feels great for the nomination and to become runner up as it shows that my hard work is noticed and appreciated. In regards to my future, Innospec is an amazing company that encourages the growth and promotion of their staff so my aim would be to work my way up the company into roles such as Product Managers and Lab Managers.
Everyone at Open Awards sends Elle and Victoria a huge congratulations and all the best for their future.
For more information on the amazing and life-changing Access to HE Diplomas was offer please click here.