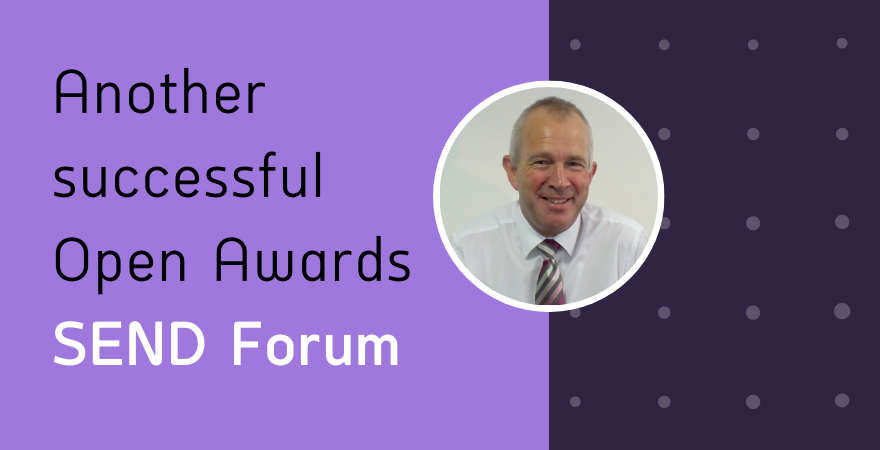 Peter Steel, Curriculum Development Manager
Throughout 2023, Open Awards have scheduled four SEND Forums – each with a specific theme and delivered by specialist, practitioner guest speakers.
These Forums are designed to bring a range of SEND related organisations / colleagues together to share up-to-date actual working practices, information, analysis and create discussion.
Our 2023 SEND Forums are:
Session 1: 16th March 4-5pm.
Speaker: Philip Adams & Steve Hogarth (Wargrave House)              
Theme: BKSB and how it has identified pathways Employment routes.
Session 2: 15th June 4-5pm.
Speaker: Sophie Evitts (Brackenfield School)
Theme: Preparation for Adulthood and Employment- getting the balance right.
Session 3: 14th September 4-5pm.
Speaker: Matt Jackson (Open Awards)
Theme: Employability.
Session 4: 7th December 4-5pm.
Speaker: Hannah Nicolson (People First Independent Advocacy)
Theme: External Work Placements – part of the People First Learners Hospitality Programme.
Due to the popularity of the first Open Awards SEND forum in March and following requests from a number of our providers, an additional event was held on Monday 22nd May 2023.
The Forum in question, 'Reasonable Adjustments for Functional Skills' was hosted by Open Awards Head of Quality and Standards Andrew Bardsley and provided specific guidance on Reasonable Adjustments to SEND Providers offering Functional Skills.
We are delighted to say that the Forum was both sold out and a huge success. One attendee kindly provided the feedback below: 
"I have found all these sessions invaluable this academic year. Thank you to all the Team at Open Awards."
To join one of our future SEND Forums, please book here
Curriculum Planning Sessions
We also offer free, dedicated curriculum planning sessions – to maximise your Open Awards Approval.
To book your session please visit - https://calendly.com/peters-curriculum/60min   
If you have any questions or require any guidance or support, please let me know.
Peter Steel, Curriculum Development Manager.
T: 07904 6543 887
E: peter.steel@openawards.org.uk
Alternatively, please visit our website www.openawards.org.uk or call our Customer Service Team on 0151 494 2072.