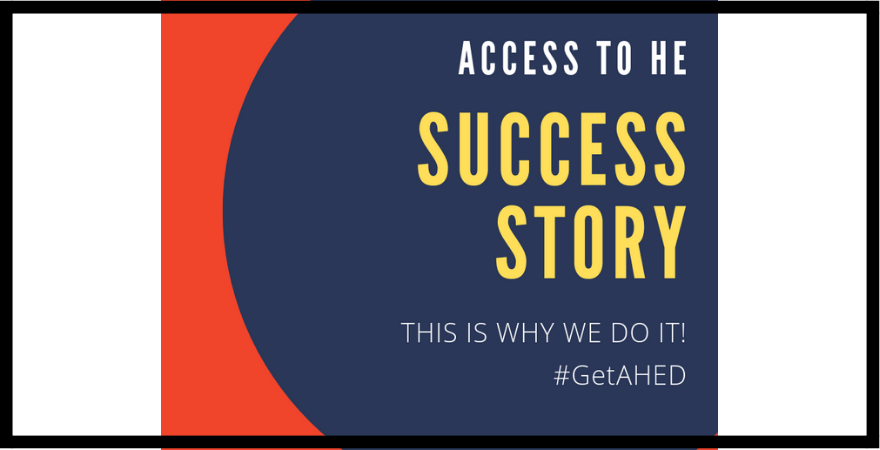 Here at Open Awards, we love to hear about all of the amazing achievements that happen at our centres. One such story is that of Natalie, who studied an Access to Higher Education Diploma in Nursing and Allied Professions at Glossop Adult Centre for Education.
Read all about Natalie's journey to her dream job….
5 years ago I began studying at the Glossop Adult Education Centre. After completing my Functional Skills and GCSE maths and English, I moved onto my Access to HE Diploma in Nursing. I am now a student nurse at MMU and about to start my first placement in theatre!
I am a mum of 3 and in the beginning, found it difficult. I would like to say a massive thank you to the staff and teachers at Glossop Adult Education Centre, not only for the terrific teaching but for their support to get me back into education after a 15-year absence.
When I was struggling they offered me support. That experience gave me the confidence and knowledge to move on academically and now I'm at university getting a degree and training in a profession I have dreamt of doing since I was a child. Glossop Adult Education Centre was a major stepping stone for me to get there. I would like to thank you all.
For people who think that their dreams are too big, believe me, they are not, anything is possible if you set your mind to it, work hard and allow your determination to carry you through. Some days I wanted to quit, some days I cried, but that's natural. You will get tired, drained mentally physically and emotionally, but trust me, you will witness something one day that makes you reflect on why you chose that area in the first place. Glossop Adult Education Centre started me off, gave me confidence, belief, a great work ethic and the best advice I could ask for, but even more so a listening ear.
I'm very giddy today after finally getting my uniform. I am going on my first placement next week which I cannot wait to do, after that who knows hopefully to Christies in the end because that's where I want to be - an oncology specialist nurse for Christies.
Good luck to all the future nurses/midwives/physiotherapists/occupational health therapists. They are the future of the NHS so should enjoy all the opportunities that come their way.... there's a lot! Thank you to the teachers and staff at Glossop Adult Education Centre.
If you want to start your journey to your dream job, contact the centre on 01629 535895 and reserve your place on our next Information Session - Wednesday 15th May 2019, 1:00 - 3:00 pm
Every one at Open Awards would like to congratulate Natalie on her amazing achievement and wish all the best of luck in her new job.
If you would like any further information on Access to HE then please click here.