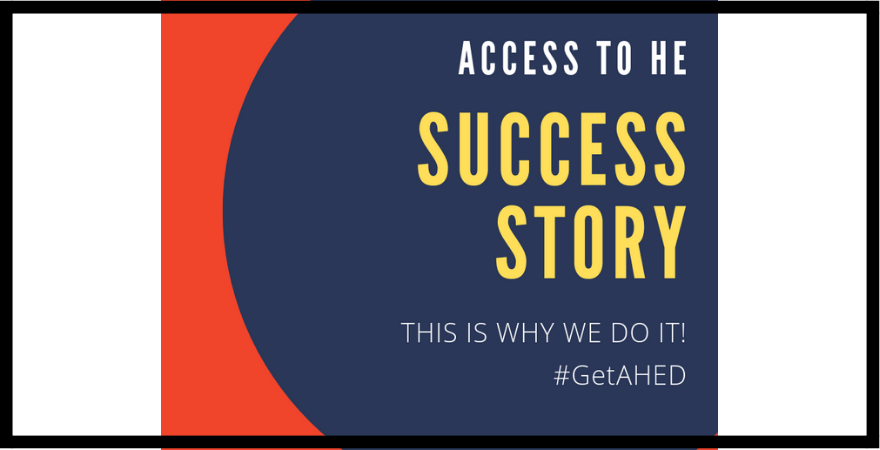 From "no hope" to University. How did Ellie do it?
Open Awards and Blackburne House have been working together for 17 years to change through learning. Located in Liverpool, Blackburne House offers a number of our qualifications such as; IT User Skills, Skills for Further Learning and Employment, Skills for Health and Care Professions, and Health and Caring.
We love to hear all about the success studies from our centres. One such success story is that of Ellie's amazing journey from "no hope" to university. Ellie's journey was paved with challenges and obstacles such as financial barriers, childcare as a single parent, and work commitments. Ellie did not these barriers get in her way and she graduated in 2019 with an Access to Higher Education Diploma in Healthcare Professions and is now studying Psychology BSc (Hons) at Edge Hill University.
Blackburne House caught up recently with Ellie to discuss her inspirational story;
What are you doing right now – course/job and where?
I am currently studying at Edge Hill University, a Psychology BSc (Hons) degree as a first-year undergraduate. I am also working part-time in Blackburne House café bar as the front of house staff.
What made you want to work/study here?
I decided to study at Edge Hill partly due to its location in Ormskirk being near to where I live, and also because the psychology department has a brilliant reputation. The campus itself suits me, as it is set in a quiet town and the grounds contain lakes fields and wildlife.
I wanted to work at Blackburne House Café bar, due to its friendly staff and welcoming environment.
Why did you choose Blackburne house?
I choose to study at Blackburne House as it supported my needs as a single parent with a difficult background and a mature student. I found that due to the class size being small it allowed for plenty of guidance and help around the course content. It also allowed me to be flexible when it came to childcare and work.
What barriers did you face that may have prevented you from studying at Blackburne House?
Financial barriers have always been a big concern for me being a single parent and working full time. I could barely keep myself afloat, let alone doing a college course alongside. The team at Blackburne house supported me throughout my course in an understanding way. They even went as far as to provide a hamper at Christmas. The tutors also made the course as accessible as possible by keeping in contact via email and answering any questions or concerns I may have had. My fellow students were supportive and always felt like I had someone to talk to. When I started the course I had little confidence in my abilities and wasn't sure I could even finish the course, let alone get into university and actually start a course!
How did you overcome the barriers?
Working alongside the course allowed me to manage financially. The supportive atmosphere, students and staff empowered me and gave me the confidence to go on and further my education more. I was given guidance for my university applications and help in choosing the one that was right for me. My confidence went from strength to strength and I started to believe I could actually do this. Now I am sat at university embarking on the next stage of my journey and I couldn't be happier.
Would you recommend Blackburne House and why?
Yes, I would! It's a great learning environment with a brilliant atmosphere and the most support I have ever received. The Access course I undertook was by no means easy, but with the support and help of staff and students, I successfully completed it and grew, not only educationally, but as a person as well. I have made friends for life with the people I have met while studying there and have learnt a lot about myself.
How has your life changed since studying at Blackburne house?
I feel like a confident woman that can handle anything that is presented to me. I have learnt how to successfully juggle being a mum and a student and work. When I started my Access course I wanted to go onto general nursing at university, and firmly believed that was my future. After starting the access course and getting into the psychology sessions, I decided that was for me! My plans have changed, and I have an exciting and new direction, although slightly nerve-racking! But, I know I can handle it and I now know this is what I really want to do. I can now put past experience and passion together to get into a field that really can make a difference.
What has been your biggest inspiration?
Five years ago, I sat in the Liverpool Cathedral and watched my younger sister graduate, I was so proud. My mum sat beside me gave me a nudge and said one day that can be you. I never even considered it at the time and dismissed the idea. Until... a few years later when I decided maybe I could give it a go with little self-belief but drive to better myself, I applied for the Access to HE in Healthcare Professions course. So my younger sister has been one of my biggest inspirations and also the drive to give myself a chance to develop my potential.
What's next?
I once sat in a room, not so many years ago, a desperate addicted mess. An individual sat opposite me, calmly, and told me his story. He told me one day it would all be ok and one day I would reflect and this would be just a patch in my story. This gave me a glimmer of hope that I didn't have to stay drowning in despair in a mess of my own making and that I could to be someone's glimmer of hope. I too could help someone in need.
To this day, that man will never know how much he has impacted me to build and better my life for myself and for my daughter. I never ever dreamed I would get to university and one day studying something I am fiercely passionate about! Yet, here I sit in the library at Edge Hill University! The next step for me is to work hard and apply myself, learn as much as possible during my degree, then hopefully I will be able to find work in the field of substance misuses and addiction.
We would like to thank Ellie for her time and for the fantastic story she provided of her transformation. We are so proud of her incredible journey and wish her all the best for the future. What an inspirational journey.