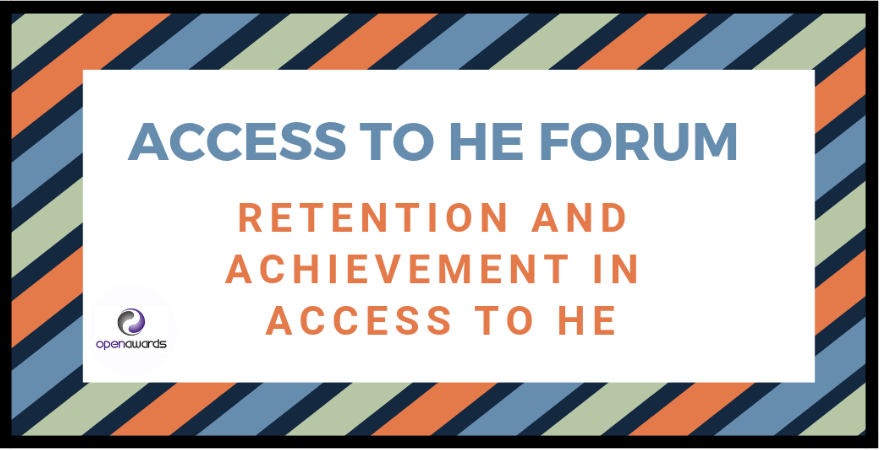 Our Access to HE Forum took place on 12th February discussing the issues affecting retention and achievement in Access to HE. We were joined by learners, Access providers, Moderators and HEIs all who provided valuable insight into this subject.
We looked at ways of making Access to HE more accessible with help from our Blended Learning team, who have looked into this area depth. Some of their observations include;
The use of technology is increasingly popular to delivery staff who are looking for new ways to support and engage learners, who need flexibility and convenience.
Learners want learning materials to be accessible via mobile technology
A degree of face to face learning is crucial for any mode of delivery especially in distance learning environments
Learners feel that the morning is the best time to learn
Key issues…
Throughout the day, several key themes appeared which all members agreed were significant factors in retention and achievement;
Childcare - While a blended learning approach lessens the difficulties posed when balancing childcare and learning there are some colleges where online attendance is not included in attendance figures. This is something that can be helped by;
If the software logs time spent and progress made by learners completing online work
Colleges including online attendance in statistics
Transport – Distances, cancellations, public transport issues or mechanical failure of their own car are all contributing factors to the decline in learner retention.
Finances – Some learners simply can't afford the loss in working hours to continue their learning.
Health Issues – Access providers are reporting increasing numbers of mental health issues amongst their learners. Providers are doing their very best to help these learners but resources and support for them is lacking and learners are leaving courses as a result. We must strive for change so people affected with mental health issues have access to the right support as well as learning.
Confidence – Returning to education is a daunting prospect and many lack the skills to return to academic study. An increase in pre-access courses is helping to tackle this issue. We're excited to see how pre-access helps learners and the discoveries that centres make in creating the ideal pre-access course.
HEI Entry Requirements – All agreed that learners who don't get that Distinction grade for their first assignment become disheartened and often disengaged. Providers work to support and talk them through their options but when other learners are getting higher grades and personal issues or health-related factors are challenging their resolve, learners sometimes leave their course.
Does Blended Learning help…?
Blended learning provides more flexibility and accessibility whilst retaining crucial direct guidance from teaching staff and peers. We've found lots of ways to tailor methods to suit different environments and subject areas and we're working with a number of our providers to introduce the materials we have as options to support delivery of Access courses and to continue that work.
If you like any further information on our amazing blended learning materials then please click here.
From the Learners perspective…
We discussed feedback from learners on retention and achievement from their point of view and welcomed valuable input from attending HEIs. Learners gave ideas for improvements to help not only with getting through their course but also getting ready for progression onto HE which is something that learners report to be another area of concern for them.
Approved Reading lists in advance of starting the Access course
Guidance and advice on what to do when childcare issues are a problem
How to balance work and other commitments and their access course
How to interpret university offers
Indications of what to expect at HE level of study and how to read and write at level 4
How to prepare for HE
What is the UCAS tariff and how does the point system work?
How to tackle a lack of familiarity with Microsoft Office applications
The forum provided a great insight into the difficulties both learners and providers face when tackling the issues affecting retention and achievement in Access to HE. We would like to thank everyone who made the journey to join us and for all their helpful input and advice. We received some great feedback about our event and will see you all again soon.
The discussion was really useful
Really useful to have learners in the room
Well planned
Professional
Friendly
Engaging
Great presentation
Great experience for the learner
100% agreed it was an easy process.
100% agreed that the trainer was well prepared and enthusiastic
100% agreed that the topics were relevant, easy to follow and were clearly defined.
100% agreed they would recommend the training to others and they felt more confident in their abilities afterwards.