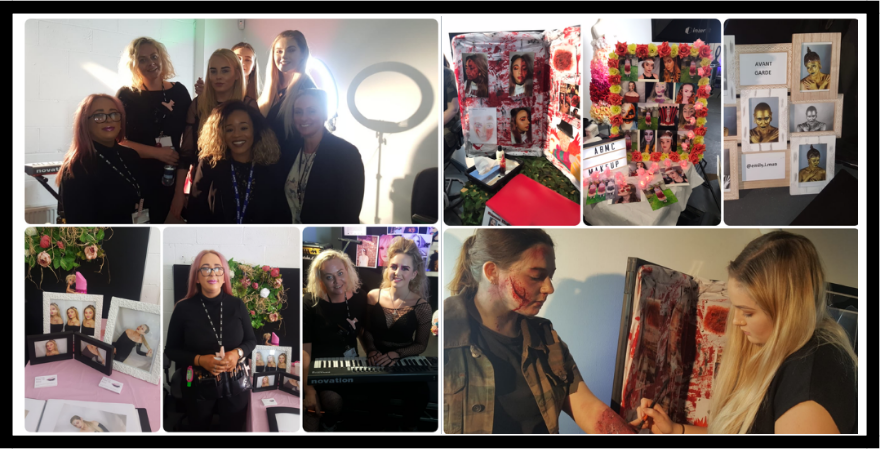 Access to HE Diplomas feature many amazing different pathways and one of those is Media Make-up. This Diploma allows learners to hone their skills in Creative Effects, Hair Artistry, Make-up Artistry and 3-D Make-up Artistry.
On Thursday 25th April Open Awards attended the Eldora Lashes Student Trade Show at Future Skills at University Centre at Salford City College to meet the current Access to HE Media Make-up learners showcasing all their work at the event.
We spoke to Access to HE learners who shared their thoughts, feelings about the Diploma and their fantastic stories and journeys to Access, while busy applying the amazing special effects, hair and make-up, art and design and dressmaking skills they have all gained during the diploma.
Emily was proving her fantastic art and design skills by showcasing a living statue adorned in gold complete with prosthetics and handmade jewellery. Emily had started the Access to HE Diploma after she was "ready to start a new path after years of office work and wanted to do something new, exciting and creative". Initially drawn to the Media Make-up Diploma for the hair-dressing and make-up artistry, Emily soon found herself enthralled by the "avant-garde and special-effects side of things" and was soon creating "weird and wonderful" works of art often practising her new found skills on her four sons at home! As the Diploma is coming to an end Emily is now thinking of setting up her own business providing creative workshops throughout her community to help people in similar situations and wanting to get in the creative world.
Rhiannon took some time out from applying her gruesomely realistic special effects to her model to speak with us and express her "love for realistic special effects such as burns, cuts and scars". Originally from Brighton, Rhiannon studied beauty at Brighton College but felt that it was the "wrong path." After a brief break, she made the decision to head to Salford and study Media Make-up at Future Skills as "Access was perfect because you learn so much in a short amount of time" and that the Diploma "offered so much more (than her previous course)." Rhiannon went on to say that she would "100% recommend" the Access to HE Diploma in Media Make-up as it is "so much fun and learn so many skills." Finally, Rhiannon said that Access had "encouraged me to build up a portfolio, pushed me to get out there and network, look for work and gain experience."
We met another Emily who was preparing for her 2-year foundation in Media Make-up for Fashion at University Centre at Salford City College in September. At the age of 18, Emily knew that a career in hair, beauty and fashion was something she wanted to do. However, she found that many "places wanted previous certificates in beauty that I didn't have and was unable to do so because of work commitments" Emily found that "Access was the most accessible with a year of study in areas that I wanted to do, especially artistry." Emily told us that she had "enjoyed all the different aspects of the course" and how "great it is for people studying with jobs and families." Emily shared that she would "absolutely recommend the Access Diploma" and has been "raving about it to my mates." Good work Emily!
We then met with the tutor Miki Evue, who all the learners raved about, had nothing but the best things to say about the Media Make-Up Diploma and its current learners. "Life happens with Access" Miki stated "different diversities and challenges face each and every learner, financial, employment and family commitments being the most common, and seeing the passion, focus and drive of these learners, is what sets you apart. Access sets the bar and leaves you with skills and practicalities that sets you up for academia, life and employment that conventional study just doesn't provide."
We couldn't have said it better ourselves. Thanks guys!
If you would like to know more about the Access to HE Diploma in Media Make-up and all the amazing subjects, we have on offer then please click here.