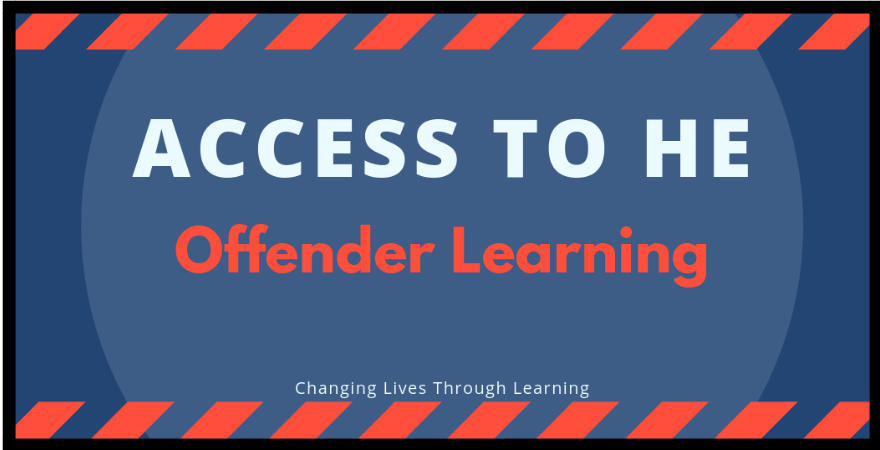 At Open Awards, we have been working with three prisons to introduce Humanities-based Access to HE Diplomas for learners ready to move onto something to progress them from level 2 and bridge the previously-vacant gap to HE study. We are constantly amazed at the commitment and determination demonstrated by Access learners and delivery staff to change lives, but were further inspired by the fortitude and resilience displayed by those in the OL setting.
Challenges, unique to the setting, had to be overcome to enable the course to maintain its momentum. New ways of study and approaches to accessibility have been tackled to address issues that have been in play since the 1980s as highlighted by Dr Samantha Broadhead in her article in June 2018.
Offenders moving around in the system are currently limited by the lack of prisons offering the qualification. This problem will reduce as more and more prisons take on board the qualification. We have encountered a partnership between a prison and a mainstream college for learners who are released and wish to continue their course. This is critical not only for the learners' academic progression but for their continued sense of worth and purpose. So far, we have found that studying on and completing the Access to HE Diploma has significantly affected learners and has positively influenced their lives and their prospects.  
HMP Garth are working with us here as part of an innovative trial to introduce the Access to HE Diploma to prisons. As an awarding body, we feel lucky to be working with such a dedicated and forward-thinking prison, that wants to be at the forefront of education and providing the best offerings to its prisoners in order to enable them to change their lives.
The Access course we provide at HMP Garth isn't just educating prisoners, it is changing their behaviours and outlook on life. Tutor Fran explains how the impact of studying the course changed the outlook of one of her pupils;
"This student has worked in extremely difficult circumstances within a prison education classroom were all students are roll-on, roll-off.  He has achieved a good merit on the first course of its kind. The course has changed his whole outlook on life and consequently his behaviour. This change has been noted by the officers on the wings and the prison Governor himself. He has also shown remarkable perseverance - a humility that has helped him learn."
Fran also details how another learner told her "This is the very first time I have ever completed a course: I look back on the difficult times when I was on the brink of quitting, but I gritted my teeth and pushed on to achieve what I needed to achieve.'
The Governor at HMP Garth recently spent an hour attending the Humanities course and was very impressed by the level of discussion he witnessed. He reported that the wing staff have noted a change in the behaviour of some of their learners who are now responding to situations with a more measured, considered approach.
Not only have the learners noticed a difference within themselves, but they are also aware that the change in them is down to their exceptionally supportive tutor and provision at the prison. One learner commented;
"She (the tutor) has taught us all the vocabulary of discussion and reason. She has instilled the habits of listening and considering a variety of viewpoints. I have been taught to be inquisitive and open-minded. My tutor has the ability to change life's direction. She makes me aware of the wider society and that everything has a bigger picture.' Many of the learners who have completed the course at HMP Garth look forward to gaining employment or going on to higher education in the future.
As an AVA committed to changing lives, we will continue to help Offender Learning providers implement the Diploma into their provision, working with them on ways to make it fully and fairly accessible and a financially beneficial qualification for both the learners and the overall provision.
For more information on our Access to HE Diploma in Prisons please click here.