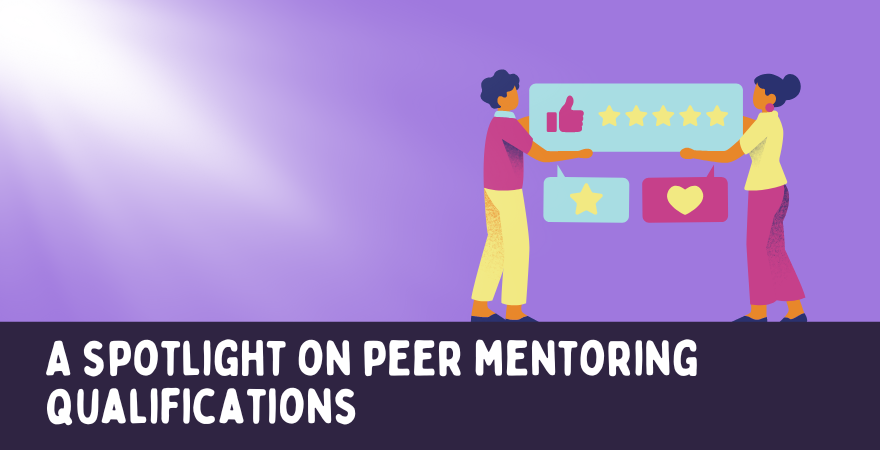 Peter Steel, Curriculum Development Manager
What is meant by Peer Mentoring?
Peer mentoring is a relationship between people who are at the same career stage or age, in which one person has more experience than the other in a particular domain and can provide support as well as knowledge and skills transfer. Peer mentoring may be a one-on-one relationship or experienced in a group.
Peer mentors provide education, recreation and support opportunities to individuals. The peer mentor may challenge the mentee with new ideas and encourage the mentee to move beyond the things that are most comfortable. Most peer mentors are picked for their sensibility, confidence, social skills and reliability.
Is there a qualification?
The Open Awards Level 2 Award in Peer Mentoring (RQF) - Award 601/6166/8 is ideal for Learners who are in such a position.
The qualification supports progression to the next level of vocational learning, enabling an individual to combine a sector focus with their peer mentoring skills, particularly in areas such as Health and Social Care or Youth Work. Alternatively, on achievement of the qualification, the Learner may consider progression (as a Peer Mentor), in a supervised context in either paid employment or as a volunteer.
To view the qualification guide, click here
For those provider who attract funding, the qualification has retained it ESFA funded status
What our Providers say:
We have been delivering the level 1 and level 2 mentoring qualifications for a number of years and have found them to be a very useful qualification that compliment some of the other courses that we provide. For example, Community Interpreting Level 2, Information Advice and Guidance Level 2, and Volunteering, Work and Community level. 
We initially stared to offer the mentoring courses some years ago to our Community Learning Ambassadors who had completed the Volunteering, Work and Community and this was a good progression route for them because some of the community development work involved supporting others in the classroom and this was a great qualification to help them develop those specific skills.
In terms of utilising skills developed we have a number of progression routes. For example, during the course we ask them to look at volunteering and paid work within the mentoring sector, including looking at what is required to become a Learning Development Mentor at Bolton College. This process allows them to identify skills they might want to develop if they decide to pursue a mentoring career. We also work in partnership with our local CVS who provide volunteer workshops and can assist them in finding volunteering positions within mentoring. The skills are also useful for volunteering in our English conversation cafes that have been developed to help ESOL learners develop their English skills.
The impact of the qualification on the learner is that they are in a position where they can apply for mentoring jobs and some employers ask specifically for the level 2 mentoring qualification. But for learners who are not yet ready it helps develop their confidence and skills and many people who do the mentoring courses go onto some of the courses previously mentioned.
Jeannette Fowler, Teaching, Learning and Assessment Leader, Bolton College