Blended Learning Packages
Welcome to Open Awards Blended Learning Packages
We have been working on an exciting project through the Department for Education's Flexible Learning Fund and with our Colleges to bring our learners new Blended Learning materials for our Access to HE Diplomas in Health Pathway, including development units.
For this year the materials are free to use this year, and a demonstration is available to view. Simply click on the image below and you will be redirected to a login page. When prompted add in the following username and password - and enjoy!
Username: ahed@openawards.org.uk
Password: openawards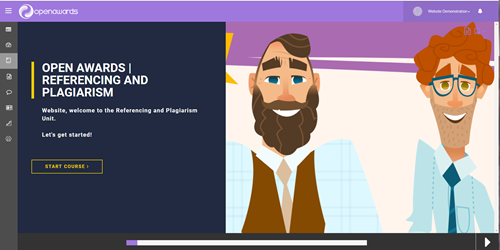 Current available units include: Presentation Skills, Study Skills, Referencing and Plagiarism, Report Writing, Academic Essay Writing, Apply to HE (Personal Statement Writing)
We have a total of 50 units in development in the following areas: Biology; Psychology; Criminology; Health Studies; Sport and Exercise; Sociology. 
For a full list of units in development, as well as their release dates, please click here

What do we mean by Blended Learning?
Blended learning is where online learning is blended with classroom-based learning.  Therefore, the aim of Open Awards blended learning materials is to provide the online content part of this blend.
Our online content has been designed to provide learners with a "chunk" of learning that either covers a learning outcome of an Access to HE Unit or gives a subject overview.  It has been structured to:
Introduce the learner to the topic
Develop the topic
Formative tests
Stretch the learner with further reading
Help build study skills
Leave the learner working at Level 3
Leads the learner back to class
For learners, each unit comes with a Knowledge Input Tracker.  This is a companion workbook that follows the online content and focuses the learner to write what they have learned online and what they need to specifically to ask for help in understanding. It is in the form of a Word document so learners can print and complete it by hand or can complete it electronically.  In addition, the workbook aids the learner with their study skills in note taking too.  In addition to the online content, we have included handouts and other useful paper-based resources too.
For tutors, we will provide a Purpose Statement so that it will be clear what has been covered online, to what extent and why.  So that you can understand how the online content can fit in with further classroom study and preparation for assignments.
For further details please contact Julie Goodwin on 0151 494 4342 or email julieg@openawards.org.uk  
In the meantime, feel free to watch the pre-recorded webinar below which outline the project, the learning packages available and how to get involved!