Blended Learning Packages
We have been busy creating online learning packages for Access to HE Level 3 units in the following unit group areas:
Biology
Criminology
Development Units
Psychology
Sociology
Sport
This has been made possible through the Department for Education's Flexible Learning Fund and in conjunction with our customers. The Packages are free to use for Open Awards customers and have been designed to provide learners with a "chunk" of learning that covers:
A subject overview or a specific Learning Outcome.
They have been structured to:
Introduce the learner to the topic.
Develop the topic.
Check the knowledge gained.
Stretch the learner with further reading.
Help build study skills.
Leave the learner working at Level 3.
Lead the learner back to class.
For learners, each unit comes with a Knowledge Input Tracker (KIT).  This is a companion workbook that follows the online content and requires the learner to record what they have learned and what they specifically need to ask for help with from their tutor.  This is in the form of a Word document so learners can print and complete it by hand or electronically.  In addition, the workbook aids the learner with their note-taking study skills too.  We have also included links to our download resource bank.
For tutors, we provide a Tutor Guide, which leads through setting up the learning packages (including system requirements) to reviewing the download content.  So that you can understand how the online content can fit in with further classroom study and preparation for assignments.  It contains a lesson plan and PowerPoint so that you can feel confident introducing the Packages to your learners.  You can use as much or as little of the online Packages as you like.  For more information on how you might want to utilise this resource visit our "Have you Considered" e-leaflet.
If you would like to have a quick look at an example Package, try our demonstration copy below.  To view this, click on the image and you will be redirected to a login page. When prompted add in the following username and password - enjoy!
Username: ahed@openawards.org.uk
Password: openawards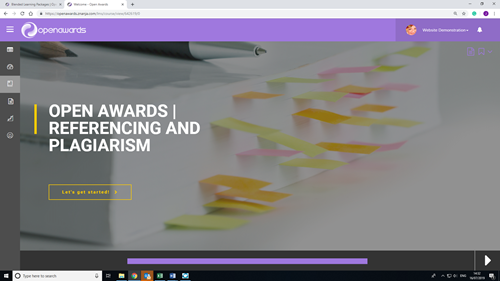 For a full list of units in development, as well as their release dates, please click here.
Getting Started
If you are interested in these Packages for your learners, please contact our team at Open Awards on 0151 494 2072 or email ahed@openawards.org.uk.
More Information:
For a full list of Units with Blended Learning Content please click here.
FAQs - Got a question? We have the answer! Click here to view our FAQs
System Information - Important information regarding using our SCORM Files.  Please read to ensure that your system is ready to accommodate the Packages.