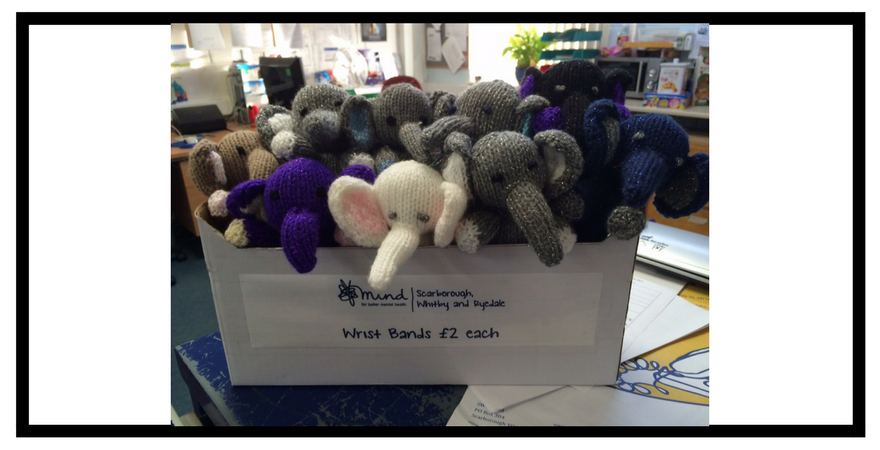 Peter Steel, Business Development Consultant at Open Awards (Trustee SWRM)
For the last three years, I have volunteered as a Trustee at SWRM. At the time of joining, there was a need to install a new Board to take the organisation forward. This provided the opportunity to bring together a range of skills and competencies, not only from the Health & Social Care / Mental Health sector, but business professionals that could contribute to the advancement of the organisation whilst retaining its identity, reputation and most of all, the valuable services it provides for the service users within the area.
Scarborough, Whitby and Ryedale Mind is a registered charity providing advice and support to adults with mental health problems in Scarborough, Whitby and Ryedale since 1965.
Our Vision is a community where everyone with mental ill health experiences compassion, opportunities, support and respect.
Our Mission is to work in partnership to ensure that people with mental ill health in Scarborough, Whitby and Ryedale have access to personalized support that empowers and enriches their lives. We work to raise awareness and educate our community about mental health.
Our support is designed to help people: Become healthier, lead full independent and rewarding lives, become more involved, included and active in community life and to reach their own potential.
Every year, our staff and volunteers support up to 1,000 of the most vulnerable people in the local community suffering with a wide range of mental health problems ranging from depression and anxiety to bipolar and schizophrenia.
We cover a geographical area of 1,000 square miles with a population of over 160,000 and is the only mental health charity providing community outreach services across the region.
We run a number of services open to adults over the age of 18 living in Scarborough Whitby and Ryedale who would like help with their mental health.
All our services are provided free of charge at point of need and provided in the community and people's homes, where it is most needed. Click here to find out more about our projects and the services we offer.
More than ever people are turning to us as they face problems such as unemployment, debt, housing or relationships which can all have a devastating impact on their mental health.
Our Volunteers
We have a dedicated team of 60 volunteers working across the region helping transform the lives of people living in the local community.
Our volunteers help people through our Side by Side Support Service giving social, emotional and practical support as well as providing information and advocacy.
Volunteer recruitment is ongoing with interviews, induction and training taking place on a monthly basis
Side by Side Support Service
Our flagship Side by Side Support Service aims to help you get the support and treatment you need so that you can step onto the road to recovery and live the life you want to lead. 
We provide social support, emotional support, practical support, information and advocacy and can help you on a short, medium or on a  longer term basis.
Scarborough User Led Group
A user led social group is held at the Rainbow Centre in Scarborough provides opportunities for social and peer support, group activities and a listening ear on Friday afternoons.
Social Prescribing Service
Our Social Prescribing Service offers up to ten sessions support to people with mild to moderate mental health problems.
Social prescribing can reduce need for medication through providing supported access to leisure, support services, volunteering opportunities and education to improve mental health.
This service is currently reduced due to funding constraints but is available 1 day per week in Scarborough and 1.5 days per week in Whitby.
Mental Health Awareness Training
We can provide mental health awareness training to local schools, colleges and other charities to enable them to support people with mental ill health more effectively and to promote discussion around good mental health. 
We are also developing workshops suitable for third sector organisations or individuals in advocacy, recovery, person centered support and hoarding.
SWRM Trustees meet late afternoon on a monthly basis to review and discuss progress against planned activities. As part of that review, we scrutinise the finances to ensure that sufficient funds are available to maintain our services and meet our obligations.
As part of raising our profile within the organisation, we plan and attend a range of additional events and meetings to make us visible to the whole team. These include, but not limited to: Away Days with the volunteers, presentations from volunteers at our meetings to increase our awareness of their role, fundraising events, coffee mornings etc 
Can you knit a herd?
Calling all knitters - or people who know a knitter!
We are still looking for anyone who could contribute a wee elephant to our depleting elephant herd!
We sell our little 'elephants in the room' at fundraising events and after a busy few events, our stocks are severely depleted.
The pattern we use is downloadable here
All customisations welcome, we've had a range of elephants in rainbow colours, wearing bow ties or stuffed with scented material. The quirkier, the better. If you're feeling ready for getting festive, we're starting to build up our collection for Christmas!
If knitting really isn't your bag, we're always welcoming of any creative ideas around 'the elephant in the room'. This fantastic little felt herd arrived in our office last week.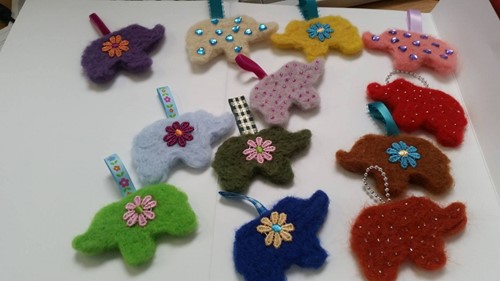 SWRM are a registered charity, and company limited by guarantee, affiliated to the national Mind charity but an independent, self-governing charity, receiving no funds from Mind in support of day to day running and no funds from the Mind charity shops in our region (Whitby, Scarborough, Pickering, Malton) who raise funds to support the national charity.  Each local Mind association runs their own organisation in the way that meets local needs. As part of the affiliation, we do support the Mind values and maintain a relationship with the network where we may access training or opportunities for joint funding.