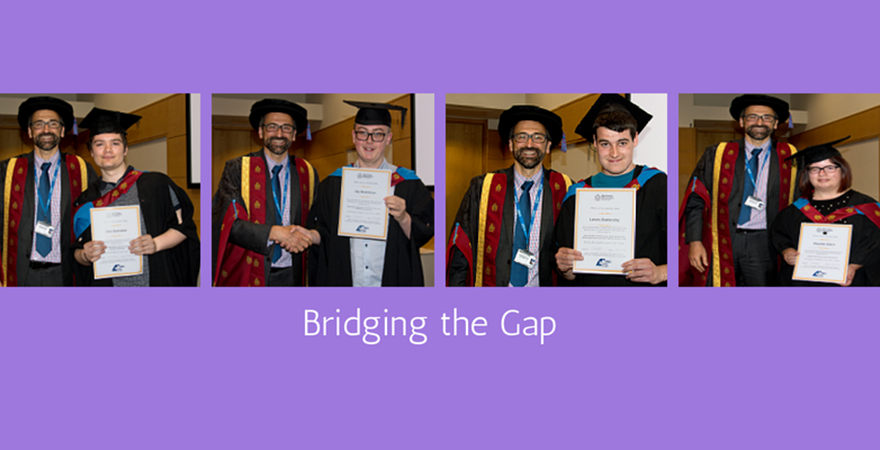 Work experience is often seen as a rite of passage for teenagers across the country. It allows a young person to experience life in the real world and is a great learning opportunity. For those who require more support it can be a challenge to even secure a placement before undertaking it.
This is where the 'Bridging the Gap' programme comes in. Hosted by Manchester Metropolitan University (MMU) the programme supports extended work placements for learners in Trafford and Manchester with Special Educational Needs. Jobs are available within the Library, Mail Service, Print Services, Catering and Facilities Management teams on campus.
At a recent visit to Manor College in Sale we were lucky enough to speak with job coach Mel Massiera and four students who were currently involved with the programme; Alex, Phoebe, Jay and Lewis.
Mel explained that the scheme is aimed towards year 13 students and it starts by developing CV writing skills and interview techniques before job applications are made. Participants receive an induction in each area of work.  Job coaches supervise and are available on campus to offer support and guidance. Students work in a number of different roles throughout the year to allow them to learn different skills outside of their comfort zone. The whole experience culminates in a graduation ceremony at Manchester Metropolitan University.
All four students spoke enthusiastically about their roles and look forward to their days at MMU. Alex has enjoyed working in the library and has now moved to a new placement in catering, further developing his interpersonal skills. Jay has been involved in print services and recently moved to a portering role which has often required him to work independently with a two way radio.  Lewis has recently been working in the refectory, mail and print services. Phoebe has worked within the library services team and most recently the Students Union – a role that she has particularly enjoyed.
Participants in the scheme are valued not just as interns but as part of the MMU staff team. Those who take part find that they develop a new set of skills and bags of confidence. 
The best way to sum up the Bridging the Gap programme is from Phoebe who has obviously loved her time on placement
"I could live at MMU!"
Congratulations to all of the learners who graduated from the Bridging the Gap programme.
Pictured above with MMU Deputy Vice Chancellor; from left - Alex, Jay, Lewis & Phoebe.