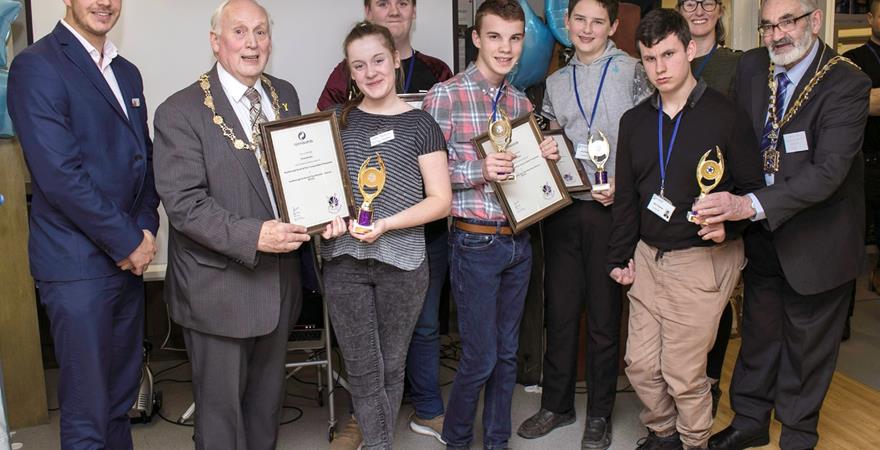 The Young Leaders programme has given young people an opportunity to learn and work alongside staff in the Youth Club, while building their confidence and self-esteem. In order to achieve the accredited award Young Leaders have attended training sessions, designed information boards, planned and delivered activities, as well as undertaking weekly responsibilities in the Youth Club.
To celebrate the Young Leaders receiving their certificates, we held a presentation evening, this was an opportunity to showcase the work of the Youth Club and the achievements of the young people in the area.
The Open Award Badge of Excellence is a quality mark that recognises excellent quality learning and training with meaningful outcomes.
Young Leaders were encouraged to identify current skills. Focusing on strengths and weaknesses critically, identifying areas they would like to improve.
The programme hopes to improve individual participant's self-esteem and confidence through encouraging Young Leaders to attend targeted programmes such as Girls Group and Making Men. These programmes have specific aims and objectives which aim to improve skills and knowledge in topics such as drugs and alcohol awareness, sexual relationships, internet safety, respect, body image, assertiveness and anger.
Young Leaders will have the confidence and skills to move on to other sessions and activities within and outside of the prevention service.  For example supporting other sessions at different youth clubs, supporting the local community, supporting local agencies i.e. road safety campaigns and fire safety campaigns.
Simone Wilkinson: Area Prevention Manager for Scarborough South & Filey
This was a fantastic event that was well organised and very well attended.  It was great to reward the young people with their certificates to acknowledge all their hard work.  Big thank you to YC Homes and St Cecilia's for sponsoring the event.  It would be lovely to have this as an annual event!
Aaron Padgham: St Cecilia's Director of Finance and Operations
St Cecillia's was the very proud sponsor of last night's awards recognising the young leaders, volunteers who help at the @northyorkscc Prevention service busy youth club.
 Michelle Ireland: Team leader 0-19
NYCC should be proud of the partnership working and guidance they have given to young leader's great presentation evening.
Spencer Simpson: Family Outreach Worker. Prevention service. SS&F
I feel that the Young Leaders programme has been a hugely successful provision for young people in our locality studying in years 9, 10 and 11. The pilot scheme has demonstrated how beneficial and empowering it is to give young people the opportunity to take some responsibility for service run sessions. I have witnessed how this responsibility has enhanced local young people's levels of confidence, problem solving skills and ability to maintain peer relationships.
The Young Leader Celebration Event was an excellent opportunity for us to highlight our pride, respect and appreciation to the young people who have demonstrated sustained commitment to the programme, and also in improving their own future outcomes. Everybody I spoke to following the event felt the ceremony was incredibly well run, and many commented on how welcoming the atmosphere was. I also received and heard many positive comments from event visitors regarding the mature and polite attitude of all the young people involved.
Tony Randerson: Labour County Councillor
It was an absolute pleasure to be in attendance at this event. The information from the various stalls prior to the awards ceremony was first class. I especially enjoyed listening to the gentleman and youngsters in the music room. I was disappointed there were no brass instruments but maybe in time that will come to fruition. The band and singers were fantastic, and all in all the youngsters are a credit to both Eastfield and Filey schools.
James Koppert: Family Outreach Worker, Prevention service SS&F
The event was a fantastic conclusion to the hard work the young people have achieved. It allowed the celebration and recognition of how the young people stand out from their peers in terms of working hard to support others. The event challenged the continual negativity in the media about young people whom are often demonised, as the service has successfully manufactured positive role models whom are also peers to the young people who attend the clubs. This is a very difficult balance to obtain and the fact it has happened shows great leadership and management from the staff as well as determination of the young people themselves.
Elizabeth Grahamslaw: Family Outreach Worker, Prevention service SS&F
What a lovely night and an opportunity for young people who don't always get the chance to shine to take centre stage and have their talents and hard work recognised. The programme has been a huge confidence booster and it has been a privilege to see how much the young people have changed.