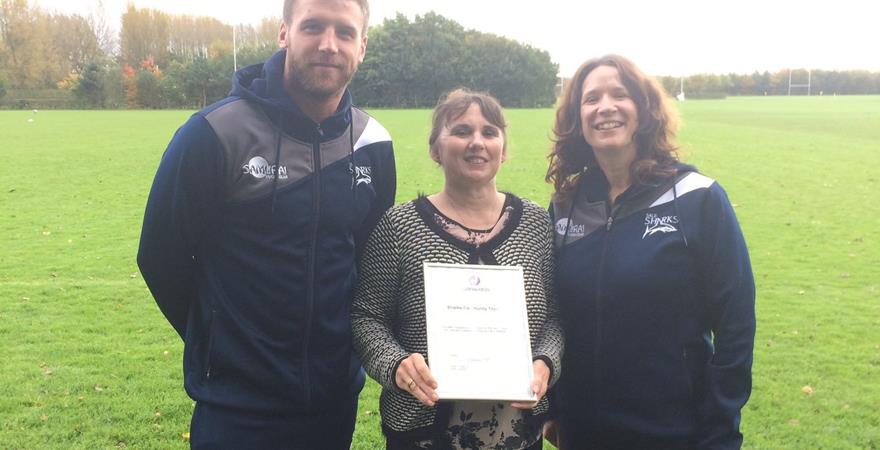 The Sale Sharks Community Trust is proud that they are the largest Trust full-time workforce from amongst the Premiership clubs and certainly with the most diverse offer.
Heather Akehurst, CEO Open Awards, was delighted to visit Sale Sharks Community Trust at the team's training ground in Carrington to welcome the team to Open Awards and present them with their Centre Recognition Certificate.
Heather Akehurst says:
Open Awards is all about changing lives through learning' and this is exactly what Sharks Community Trust seeks to do – right at the heart of communities. We are proud that they have chosen us to work with and look forward to supporting them in their new developments.
The ethos is focused on using rugby to have a positive impact on education, health and social inclusion; and a major investment has been in projects that improve people's financial literacy skills and the Trust is grateful to MBNA who provided a major financial investment for 3 years to launch this award winning project, Number Cruncherz. Sharks Community Trust uses rugby scenarios such as signing new players against a salary cap and then relating the same challenge to paying household bills against an average income.  Pupils soon understand why their parents have been asking them to stop turning on every light in the house when it comes out of their 'Christmas gift allowance'.
The Hitz programme run by Tom Leader, Social Inclusions Manager, is by far the Community Trust's biggest programme focusing on employability and life skills, particularly in the Manchester area. Emphasis is given on achieving a qualification, primarily at Level 1, improving employability skills (such as interview techniques and CV writing) and life skills (such as money management and substance misuse guidance). Throughout all the programmes they try to achieve a rugby link but are open to other suggestions if that's the best thing for their participants. 
The Trust have been working with the Open Awards team to plan their curriculum 17/18 and will be offering Functional Skills and vocational qualifications  to support their existing offer. Open Awards is proud to support Tom and Alison Warwood, their Head of Programmes in providing qualifications that meet their needs.